Posted: Friday, Jun 19th, 2020
International Surfing Day — and a Little Ventura Surfing Philosophy
Today Ventura celebrates International Surfing Day and the beautiful lifestyle (obsession) that is
surfing
; as well as, equally important, the need to protect our world's oceans. So maybe the first thing you should do is walk away from the computer and go surfing. But maybe your hair is already wet, your nose running, your face sun burnished.
If so, take a moment to enjoy a few nuggets of Ventura
surfing
history — and maybe a few life lessons too.
As the legendary Frank Sentes — surfer, raconteur and philosopher — once said, "
Surfing
is a sport of positive thinking. If you think you're going to make that section, you very likely will."
One can see the connection to something bigger.
Sentes — who is no longer with us, but still lives on — also remembers a California Street far different from the one many know. Sentes surfed C Street in the early sixties. Asked about that experience several years ago, Sentes laughed.
"To walk down to California Street, there was
nothing
there," said Sentes. "There was no Promenade, just this little two lane road that went along the coast right there. You'd get down to the water and just see those waves …"
Said Jack Cantrell (another local surfing legend, now gone), of surfing in Ventura in the fifties; "My God, I had to look for somebody to surf with."
Imagine that.
They were also nomadic times, boards atop the car, ribbon of road spooling beneath the wheels. They weren't in much of a hurry, surfing's early pioneers, and maybe there is a lesson in that too.
"Surfing in the sixties, there were only so many spots where people went," says Bill "Blinky" Hubina, who is still, thankfully, very much with us (Blinky owns
Ventura Surf Shop
, and gives much to the Ventura community). "They surfed Doheny. They surfed Dana Point. They surfed Swamis, Trestles, Malibu, Hermosa Beach, Rincon, California Street. People traveled. They traveled fifty, a hundred miles to go surfing."
And — in 1965 — the world's best surfers traveled to C Street for Tom Morey's Nose Riding Contest; one of the first professional surf contests held in California. Morey's contest drew the biggest names in surfing, legends like Mickey Munoz, Robert August, Donald Takayama and David Nuuhiwa (if you don't know surfing, think Michael Jordan, Serena Williams, Lionel Messi …). Surfer Magazine reported on the Morey Noseriding Contest in their September 1965 issue in an article by Patrick McNulty titled: "They're surfing for big contest $$$." Wrote McNulty, "Surfing's trend to professionalism was underscored over the Fourth of July weekend when the Tom Morey Invitational scattered hard cash for some of best surfers in the sport…" How much cash? Seven hundred and fifty dollars.
Surfing style is a highly subjective matter, but Morey's contest was the rare contest that was judged totally objectively. The winners were the surfers who spent the most time on the nose, ten toes hanging over the nose of the board. The judges used stopwatches. Funny stuff, there were no equipment restrictions. One contestant put a piece of cinderblock on the tail of his board to bring the nose up out of the water.
And how long did some of the best surfers in the world stay up on the nose? Almost ten seconds. Sort of the equivalent of a full-court buzzer-beater. In an eight and under basketball tournament.
And so, yes, International Surfing Day was established in 2005 by Surfing Magazine and the
Surfrider Foundation
for all the right reasons. To celebrate surfing, yes, but also to bring attention to our oceans, which — beset by everything from pollution to overfishing — are in sore need of our attention.
Sylvia Earle — marine biologist, author and lifelong ocean explorer — keeps it short and true.
"We need to respect the oceans and take care of them as if our lives depended on it. Because they do."
As for the surfing, you may now have a taste for how Ventura has played a big, though quietly understated, role in surfing history.
And quietly understated is precisely how Ventura likes it. Yes, Ventura has produced world class surfers and shapers. Yes, the annual California Street Classic Surf contest traces its roots back to one of the first professional surf contests. Yes, Ventura has some of the best waves in California, from the Santa Clara Rivermouth, to C-Street, and on up to Rincon (Santa Barbara claims it, but it
is
tucked just inside the Ventura County border).
But no one makes a fuss about any of it. Because Ventura's surfers know what really matters.
Surfing isn't about legislative proclamations, or trophies, or recognition, or any of the outside world's noisy trumpetings. Surfing is a quiet thing. Quiet and irresistible. Anyone who has swung to their feet, wave and heart surging as the world falls away, understands.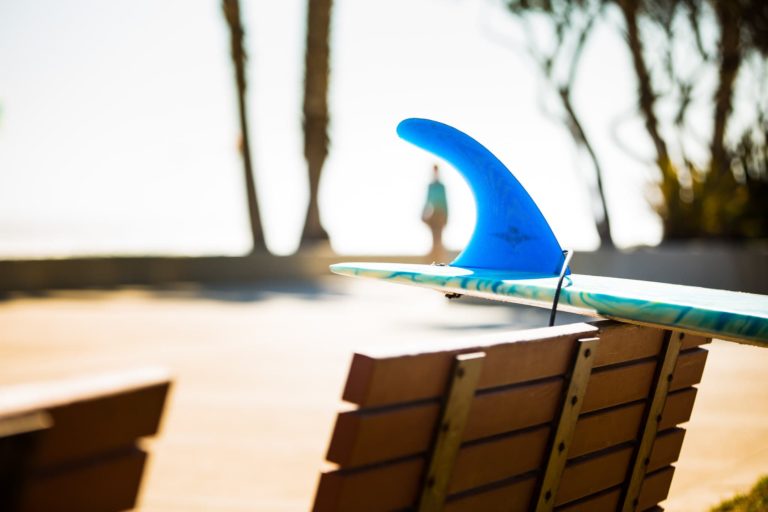 Ventura is a fine place to understand.
A last word from Sentes, who, like all great raconteurs, possessed a poet's soul.
Once asked what makes Ventura special, Sentes sat back and rubbed his chin. His eyes went somewhere else, and then they took on a happy, dreamy light.
"Some of the places south of here, you don't know what town you're in except for the light you go through," Sentes said. "Ventura's cradled by these little mountains with this pier sticking out and this big arcing bay… You know you're in Ventura."