Posted: Tuesday, Jul 19th, 2022
Inspirational Stories from Ventura's Businesses
Here comes the Sun
Here comes the Sun and I say
It's all right
– George Harrison
Celebrating a New Ventura Summer
Here comes the Ventura summer sun, and this time around it feels especially good. Just a little bit sweeter. Just a little bit brighter. The way a friend's hug now seems to stay with you just a little longer.
Simple things. Maybe no longer quite so simple.
So much cause for celebration.
With celebration in mind, of late our town has launched giveaways (sorry, they're over) and new beers – happily still available from Topa Topa Brewery and Ventura Coast Brewing Company, in the form of two delicious limited releases called "Cruisin' West Coast IPA" and "Coasting West Coast IPA." Even a fun limited edition towel (after all, in Ventura the beach is home) that not only redefines a beach towel but, in Ventura fashion, sees one percent of the sales go to an environmental cause.
Because in Ventura we know that good begets good.
But life isn't all soothing sea breezes and summer sunsets. We have gone through unfathomably tough times. And we should not forget. Because through these tough times, our businesses, our friends, our town exhibited all the traits that matter. Perseverance. Caring. Community. Kindness. Supporting Local. And yes, survival.
The testimonials below will give you chills. They will also fill your heart with inspiration and belief in the human spirit. Read them. In Ventura we try to live them.
Because nothing beats invincible spirit and caring.
And belief in the light.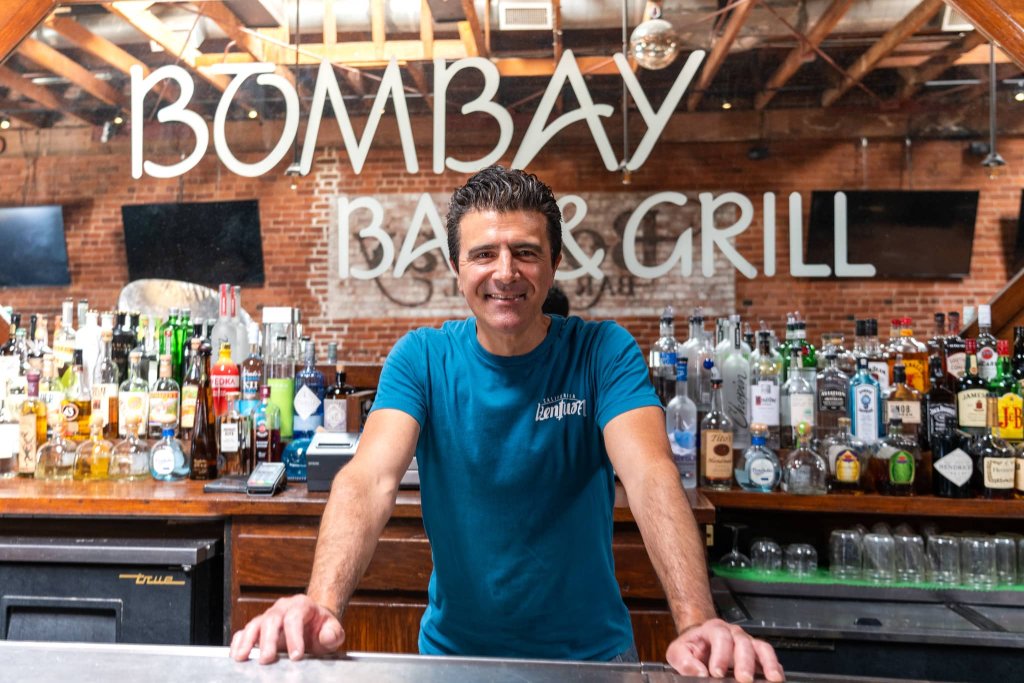 Bombay Bar & Grill
Imagine being a booming bar, filled with crowds, bands, and good time fun.
Imagine a pandemic that allows no indoor gatherings.
When the first and most restrictive wave of the pandemic passed, Diego Gamba and his industrious Bombay crew began by building a 3,000-square-foot patio in the parking lot. They also got creative.
"The first time we reopened was July 4th." Diego half-smiles. "I don't know what year it was."
Diego can be forgiven. Pandemics alter lives and time frames. But Diego does remember setting up tables out front on that July 4th day. The plan was simple. Diego would make cocktails to go. His chef would make delicious meals to go.
Diego stepped outside and looked left.
"There was a line down the block."
Bombay has always focused on what Diego calls "building relationships." It's a simple thing. Walk into Bombay and, first time or thousandth time, the warm welcome will make you feel like the sun has moved indoors.
"The one-on-one attention to whoever comes through the door. We make them feel like regulars right away. And that's what saved us."
At special events, on just regular days, people bought t-shirts, hats, and cocktails and meals to go.
A literal and figurative loyal line.
"Bombay has always been about bringing people together. We are social animals. That's what we do. We bring people together. Whether we have 500 people in the house or five people in the house, they get the same treatment." Diego flashes a white bright smile. "To me, this is like Cheers on steroids."
Connection. And genuine feel-good hospitality.
It just seemed right. And good business sense.
But it turned into a legacy, and that legacy helped save Bombay.
If smiles can relax, Diego's does.
"We're just glad to be back."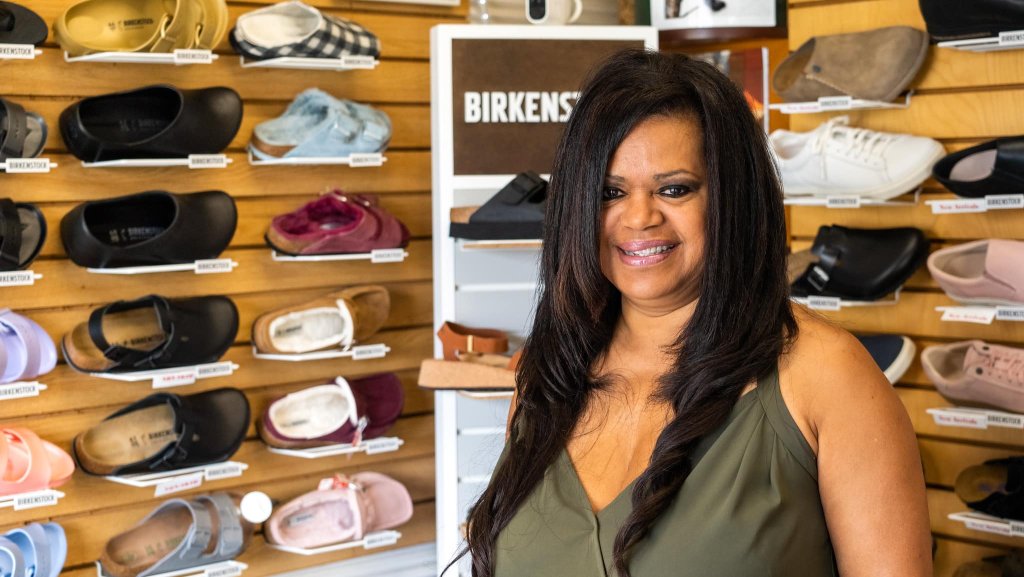 Birkenstock Footprints of Ventura

The pandemic was often about timelines. The best of them often guesswork.
When the Health Department first closed Ventura businesses – Birkenstock Footprints included – down, owner JoAnne Hadley remembers the timeline.
"They told us two weeks," she says. "I still came up here and watered the plants."
In that moment, JoAnne faced numerous problems, not the least of which was thousands of dollars of inventory for spring and summer. She opened each and every box and sprayed them with Lysol.
"In my mind, I thought I am going to go back there and survive. The unknown was really the worst."
But, in short order, additional surprise surfaced. JoAnne closed Birkenstock Footprints on March 18th and returned to her store on May 28th.
"When I came back, I had multiple people calling me saying how they had been walking around barefoot – on cement and hardwood floors. Their feet were killing them. Who knew? I could not believe how many shoes I sold. I almost had no shoes left. 2020 ended up being the best year we'd had in 42 years. 2021 did even better."
JoAnne did curbside pickup and, if that didn't work for her customers, she delivered to their homes.
But JoAnne didn't escape the roller coaster ride either. As 2021 began to wind down, she had virtually no shoes in the store.
"They were stuck out in the ocean."
They arrived on October 15, 2021.
"A huge delivery. Things got nutty in here. I was selling shoes out of the boxes."
JoAnne worked relentlessly and did everything she could to make sure her customers got what they wanted.
She admits, she always had an ace in the hole.
"Birkenstock people are different. They are easygoing. They are kind. They're very patient. And they're unusually loyal."
Overall lesson?
"Stay positive people. Positive, positive, positive, positive. Envision your future as a positive thing."
Optimism is not just an upbeat quote.
On July 4th, JoAnne celebrates 25 years of business.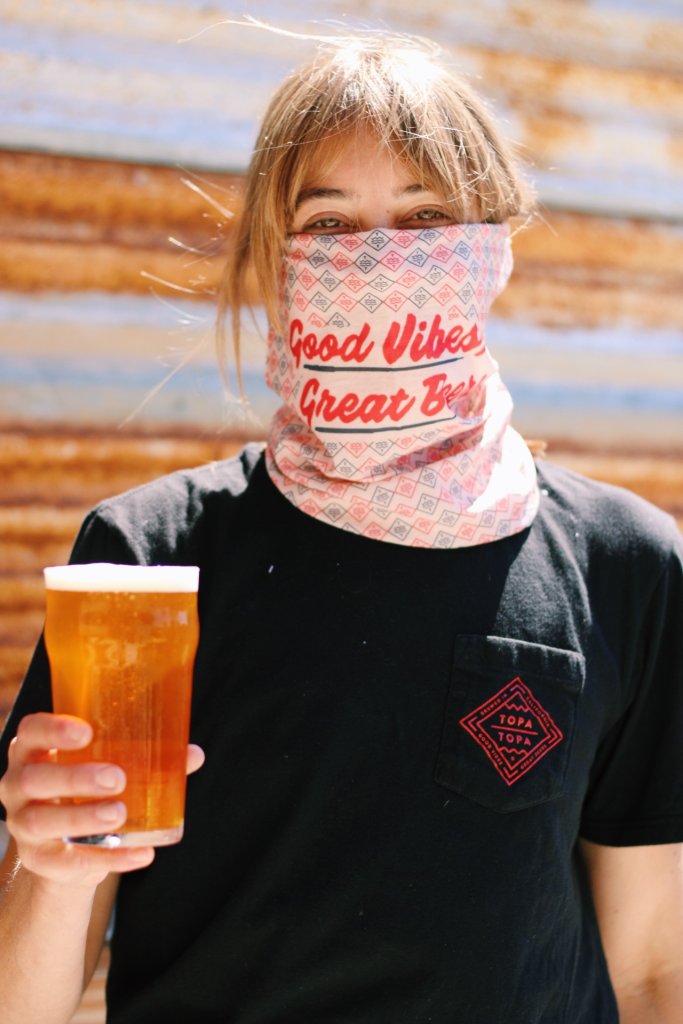 Topa Topa Brewing Co.
"We have a million survival stories from the pandemic, but I've tried to highlight two or three that are slightly unique and tell the story of the support we so graciously received from our strong Ventura community.
1. In the first days of the pandemic, Topa Topa, like every business was forced to make some critical moves just to survive. Our team literally built an online store overnight so our customers could order beer to be picked up safely at our locations or delivered directly to their houses. I can still recall the moment the store went live. I watched as literally hundreds of our regular customers bought six packs, shirts, cases, etc. via the newly minted online store. It still brings me chills as well as an overwhelming sense of gratitude for the much needed support. That support continued throughout the various stages of being open, closed, partially open, closed again, etc. It was a wild ride (still is), but the support we received gave us hope of survival!
2. As Brewers we really like to build things. As we faced an extended closure of our taprooms, we re-allocated some old shipping containers that were destined to be office spaces on the production floor into what now is a fully functioning outdoor bar at our Colt Street headquarters and Beer Garden. We dubbed this bar the "Good Vibes" bar and it has lived up to its name. Having the additional outdoor service points allowed folks to actually enjoy a pint at a bar when indoor areas were closed, and more importantly has allowed them to provide a space for various community centered non-profits to host fundraisers as the economy re-opened. After all, our amazing non-profits also suffered through the challenges of the economic downturn associated with the pandemic. The "Good Vibes" bar will play host to our launch of our collaboration with Visit Ventura and VCBC as well, kicking off what is sure to be a really fun holiday weekend celebration.
3. The pandemic forced us to get scrappy. At Topa Topa we had the good fortune of having a canning line. As we recognized that this was not going to be a short two to three week challenge, we pivoted ALL of our beer into cans. This took a ton of work and planning in a very short amount of time. Allocating aluminum cans and getting them into the hands of customers took on a very different form than pre-pandemic times. At one point we even put a simple Topa Topa sticker on a blank aluminum can that held a beautiful coffee stout. This type of scrappiness and maneuverability was critical to our survival. For what it is worth, that beer tasted incredible and our customers enjoyed it thoroughly, despite the fairly unkempt look of the packaging."
Jack Dyer, Co-Founder Topa Topa Brewing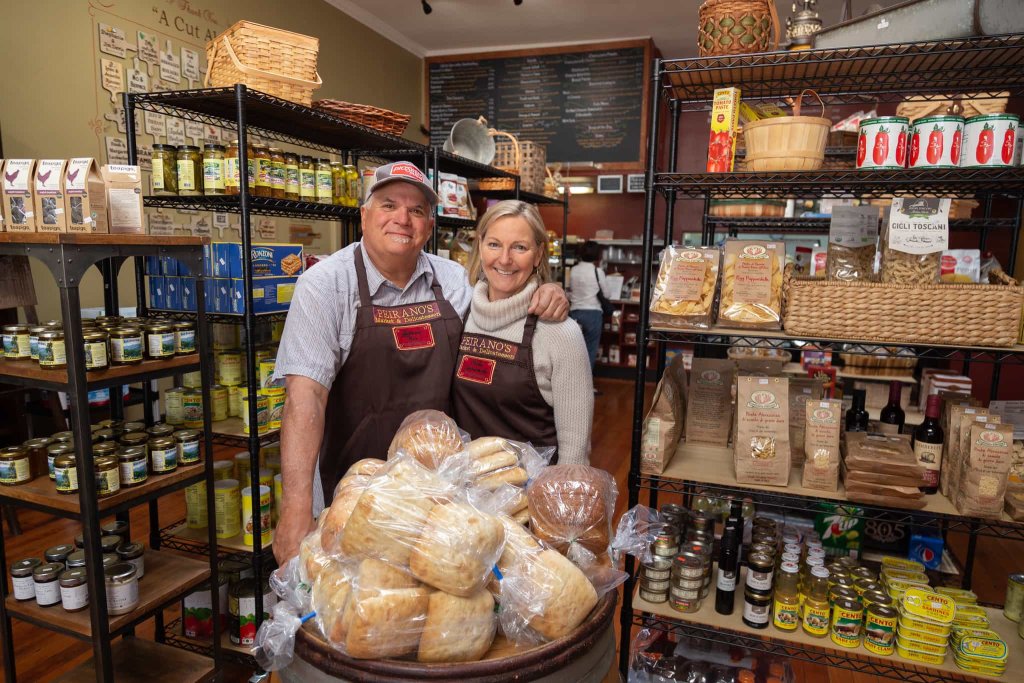 Peirano's Market
Jim Rice, Peirano's CEO, puts it simply.
"We had to reinvent ourselves four or five times. We made it."
Daughter – and Director of Operations/Events, Shanon Rice-Johnson smiles.
"It was like a new business model every week."
There were countless pivots.
When the pandemic initially shut things down, Peirano's started by selling groceries to go, including a package – dubbed simply "The Essentials" – brimming with grocery staples like milk, butter, and eggs.
There was a lot of strange.
"Remember, nobody could get eggs," says Shanon. "It was like, 'Okay let's get creative'."
That creativity, like so much of Ventura's creativity, took a community turn. Peirano's teamed with World Central Kitchen to make meals for seniors who couldn't leave their homes and senior homes where the kitchens had shut down. They cleared the market floor, set up tables, and got to work. They made some 300 meals a day. But it wasn't just making meals. Because of the World Central Kitchen effort, Peirano's was able to keep their staff working. And work became something more. The team turned up the music. They put out the meals, but not before putting little notes in them. They experienced something they never thought they would experience.
"It was such a life lesson in that moment," says Shanon. "It taught us a lot about gratitude and service to our community. It was a really special bonding time."
Business models changed and changed again. They put together Mother's Day kits (pick it up and take it home and cook it). They did a live video charcuterie class. And sometimes creative endeavors like that online charcuterie class took another morphing turn. These days, on the fourth Wednesday of the month at 6 pm, you can sign up for "Edible Art with Shanon", an interactive food art class followed by dinner and live music. Yes, in person.
What does all this teach you?
Shanon pauses, thinks, and decides.
"Gratitude and how this community really rallies to support small local businesses. Any time there's a crisis, Ventura just really comes together. The outreach to us was overwhelming. How can we support you? How can we help get you through this?"
It's good to hear these kinds of stories, isn't it?
Shanon doesn't think at all this time.
She smiles wide
"Those stories don't come to light often enough."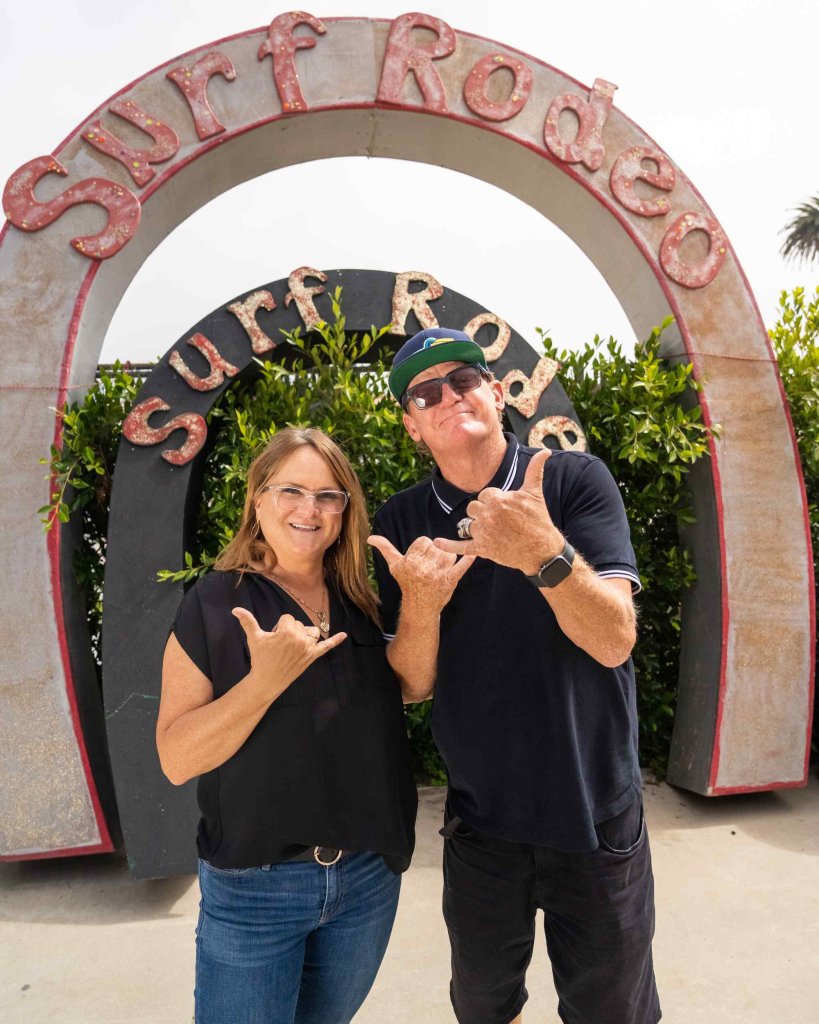 Surf Rodeo
Ventura's Surf Rodeo defies both convention and description. How to describe surfers competing in vests and cowboy hats, a huge cornhole tournament, the world's biggest beach bar on the sand, mechanical bulls, and musical stages scattered across the beach beside the Ventura Pier, featuring, this time around, over 40 bands.
Started by Ventura local John Drury as an antidote to all things serious (thank you, JD), when the pandemic struck the Surf Rodeo fell to the serious.
"It shut us down," says Surf Rodeo team member Tami Winbury. "We just shut the door and walked out. I came back two years later, and the event from March two years earlier was still on the whiteboard. The room literally just sat still. It was like a time capsule."
The Surf Rodeo defines community – over the years the event has raised over $60,000 for local charities – and when the pandemic struck, community was the Surf Rodeo's first impulse.
"You kind of immediately start checking on your circle," says JD. "There was a strong need for everything from food to moral support We did anything we could do. People just rallied and lent a hand. It felt good to do that."
Meanwhile, the event itself hummed along as a nonentity. Ventura summer of 2020, canceled. Fall of 2021 in Waco, Texas (home to a wave pool), canceled.
Tami produces a wry smile.
"This is our third shot at getting a Rodeo going," she says. "Three's a charm."
If the Surf Rodeo traffics in anything, it's good times and optimism. Their Ventura Avenue headquarters, nondescript in the front, opens up to a playground/clubhouse/workplace like no other; a happy indoor/outdoor mayhemic sprawl that includes a bar that was once Phyllis Diller's kitchen, a surfboard shaping bay, and happy detritus ranging from a rusted tractor, to a lifeguard stand, to paintings of Elvis, to surfboards scattered about like wayward toothpicks.
Alice in Wonderland meets Endless Summer.
The look is the attitude.
On July 15th, 16th, and 17th, the Surf Rodeo returns.
Standing in sunshine and carnival detritus, JD produces a 12-year-old's invincible grin.
"It feels good getting the spirit and energy of the Surf Rodeo back."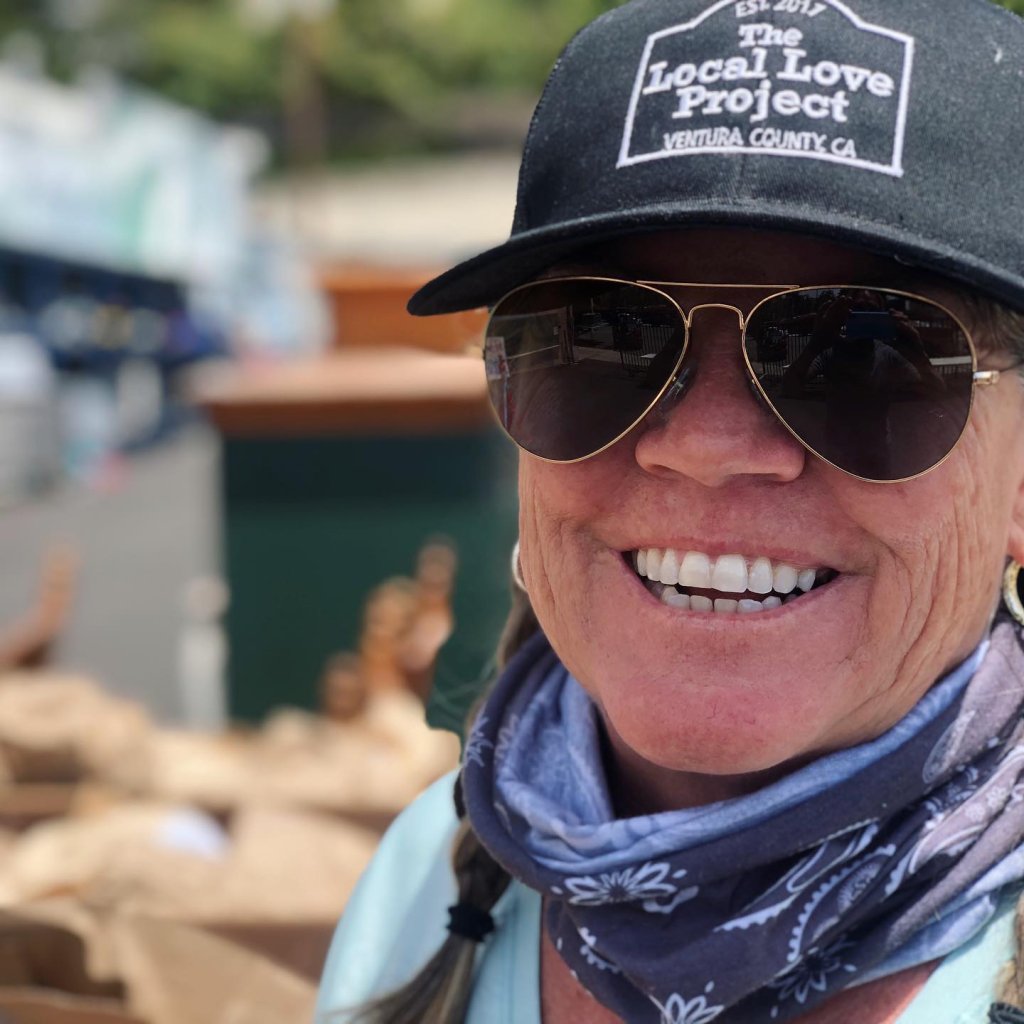 Totally Local VC
"The impact of the coronavirus crisis was felt not only by businesses but individuals and families as well as communities around the world. Its impact seemed to come in ever-changing waves, affecting each of us on so many levels.
For Totally Local VC's Agricultural Education Foundation 501C(3) and the Local Love Project, the impact was financially crippling. Being a nonprofit organization that relies heavily on our events to fund all of our education and outreach programs…. Well! It all came to a screeching halt. But in true Totally Local VC and Local Love style, this halt did not last long.
Just as with the California wildfires, our Totally Local VC and Local Love Project team did not think twice about stepping up and reaching out to help those impacted. It all started with our online Totally Local VC resource guides, which provided the latest's updates on restaurants, bars, and more. Our site gave constant updates and information on help and services available to our community as well.
Totally Local VC's Local Love Project was generously gifted a warehouse space by the Ventura Fairgrounds team which enabled us to bring in much-needed food and other needed supplies. Our volunteer teams rallied in the face of the pandemic, helping to provide much-needed manpower to area food banks, school lunch programs, seniors, and disabled individuals in need. Our team helped to harvest food from area farmers and packed thousands of bags and boxes of food, as well as much-needed household items each week. Together with our community business partners like Winchester's Grill, Aloha Steakhouse, Peirano's Market, Firestone Brewing, Avenue Thrift Store/Surf Rodeo, Food Forward, Dole Fresh Fruit, Feed the Frontline (to name just a few), we distributed these items to households impacted by the shutdowns. Working together with World Central Kitchen partnering restaurants, we provided ingredients to help with their meal costs. The Local Love project also procured donations of hand sanitizer and N95 masks, which went to area hospitals. Through generous donations, we were able to pay for the gas, trucks, and items needed to ensure that assistance was able to continue for the two-and-a-half-year period.
In the process, our team learned once again, that in a time of need our Ventura Community steps up. Each and every one of these wonderful volunteers – local heroes all – helped make a positive impact.
As we clear the dust off the event plans from over two years ago and get back to our Totally Local VC Farm to Fork Dinner Series, the Taste of Local Festival, and Ventura County Ag week planning we do this with a greater appreciation for not only our role as connectors but also with the understanding of what it truly means to be a part of our amazing Ventura community.
We feel privileged to serve our community in the good times and the bad."
Kat Merrick and Team
Totally Local VC Agricultural Education Foundation
And the Local Love Project
Ventura Coast Brewing Company
"I think for me the biggest thing I remember about the beginning of COVID was how much adaptation we and everyone else had to do. Internally we called it "cockroach energy". No matter what happened, we couldn't be killed! When we were fully closed we pivoted all of our volume to cans to go, and we saw a huge amount of support from our regulars and the community to get through that time. When there were spacing restrictions, we were able to build an outdoor beer garden that helped us get through the summer. And staff came together and helped construct an outdoor Cabana Bar we still use on the weekends and for events.
Overall I left COVID even more appreciative of our regulars and of our staff because that is who got us through the pandemic!"
Kyle Thille
Founder
Ventura Coast Brewing Company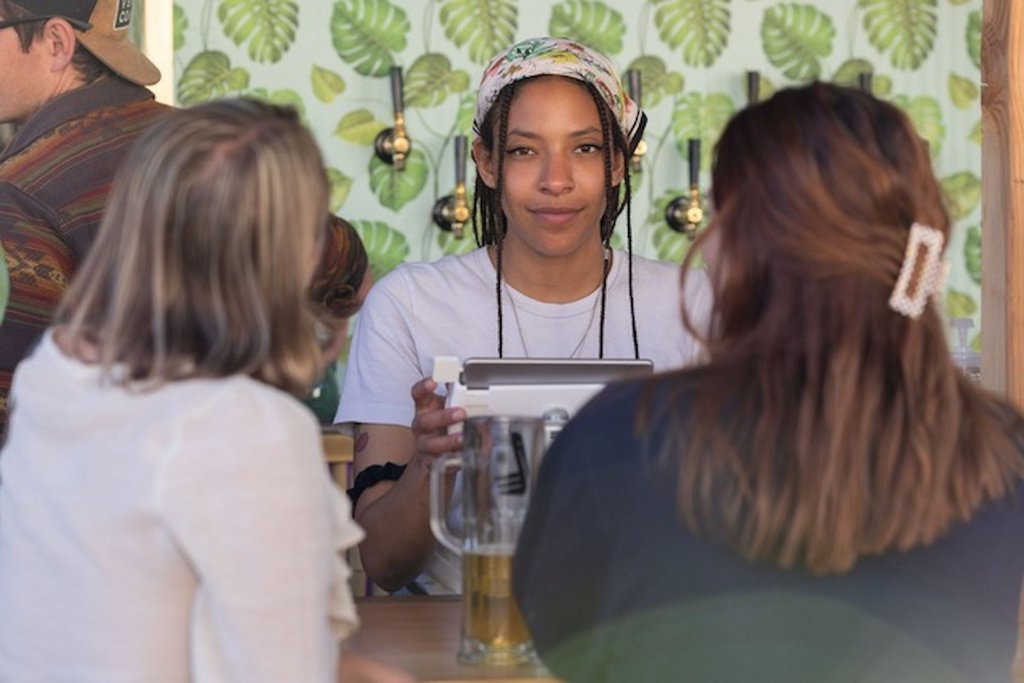 "It Still Brings Me Chills"
Discover More
Get to know Ventura, and discover the best things to do around the city.
Ventura Partners With