Posted: Tuesday, Jul 18th, 2017
How to have a perfect day at the Ventura County Fair
by Visit Ventura
The summer magic of the Ventura County Fair is here again! Carousel kisses, exhibits (art to agriculture), concerts, professional rodeo, 4-H livestock, rainbow fireworks, the smells of fried dough and cinnamon, hand-holding under the stars, happy shrieks and memories made on the sea breeze. A few words of advice to make your Fair magic, well, more magical. And for more helpful advice, please visit 
Ventura County Fairgrounds
. Over 300,000 people came to the
Ventura County Fair
last summer -that's a lot of cars. Why struggle being stuck in traffic or finding a parking spot when you can…
Take the train or shuttle!
The
Amtrak station
picks up and drops off directly in front of the
Fairgrounds
.
The best way to get into the Fair spirit once you arrive is to jump on the rides!
Insider tip: Seek out a spot on the Ferris Wheel right around sunset to watch the sun go down over the Pacific.
And, between rides, find a treat — no shame in indulging in fun Fair food.
For adorable photos and only-at-the-fair kind of fun, challenge a friend to bet on the pig races.
Loser buys the mini donuts.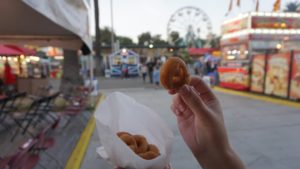 And, free with your admission ticket, take the opportunity to sing along at the concerts.
And there's no better way to top off a great day than to watch the fireworks!
CLICK HERE
for more information on the Ventura County Fair
Discover More
Get to know Ventura, and discover the best things to do around the city.
Ventura Partners With