Posted: Sunday, Dec 20th, 2020
An Insider's Ventura Gift Giving Guide part II
Let's be honest. Normally this would be a season of celebration and gift giving. But this is a Holiday season like no other, a season when sometimes it feels like there is nothing to celebrate at all. But even in the darkest times there is something bright. There is something to celebrate, in this strange Holiday season and in every season that follows, with whatever those seasons might bring. That something is human kindness. In our lives we've all seen it, often small moments and small gestures that aren't, of course, small at all. These acts of kindness, they are small in the sense that they usually take place out of the limelight — between friends, between family members, between lovers. And so you don't hear of them, unless, of course, you are the one practicing or receiving kindness. Kindness doesn't have to take the form of a gift, but, in these strange and difficult times, giving a gift serves a double kindness of sorts. One, you brighten someone's day. And two, you brighten a local Ventura merchant's day. Sure, maybe what you are buying is something very small because it's all you can afford and that's just fine because small things, taken up by lots of hands, turn into very, very big things. Forecasts say one in six Ventura retailers (and one out of two Ventura restaurants) won't make it through through the pandemic. But it doesn't have to be that way. Think of all the Ventura hands. Starting with yours. How to help? You've already got that figured out. What to get? Well that's where we're here to help. Visit Ventura will be running a series of blogs with gift giving ideas provided to you by your fellow Venturans. Venturans who maybe don't have a lot to spend, and know just the right place to spend it for maximum Kindness Impact. This blog is in time for the Holidays, but we're going to keep running them, right on through this year and into the next. Why? Because a kindness can arrive at any time. Thank you for helping keep Ventura's businesses alive — gift by gift — while making a random day special for someone in your life who maybe could use a little bright. Thank you for elevating kindness above darkness. Without further ado some inside tips from some inside Venturans…
Tasting Room Manager/Market Specialist at Ventura Spirits Charman Hot Sauce Chris is exactly the kind of passionate craftsman I love to be around and learn from. He takes no shortcuts and creates a lineup of full flavored and intriguing hot sauces for any dish. I cannot have eggs without his Picante hot sauce. Catch him on line, at local vendors, or at farmers markets.
Click Here
Finding's MarketWhitney curates a very thoughtful collection of locally crafted goods. Her subscription box is the gift that keeps on giving and keeps you supplied with all the things you never knew you needed… but you do. We look forward to participating in her market again next year, when she takes over Oak Street for an inspiring showcase of all the wonderful things being made locally.
Click Here
Beacon CoffeeThere are so many coffee shops to love around here, but Jen and John's passion for sourcing their beans and expertise in roasting them to be the best expressions of themselves brings me back to them time and time again. I was gifted their Collective membership and look forward to my bag every month.
Click Here
Ex Voto Chocolates and Confections No one puts more care into anything then Jen and Sophia do into their chocolates. They analyze each component of everything they create, and the results are always exquisite.
Click Here
JWolf BBQThis family run BBQ joint is walking distance from my house and has been a tremendous source for comfort food all year. We've received many gift cards to JWolf and use them all up in no time.
Click Here
Previous Next
Business Owner – Rêves de Sabine Earth-to-Alix Protection Pearl NecklaceAlix is a little fairy with magic fingers. I got one of her Protection Pearl necklaces at the begin of Covid, and wrapped it around my wrist. I will wear it until it falls off.
Click Here
Ratboi ScrunchiesAlex is a wildly creative entrepreneur with a huge heart and a great sense of style. I am addicted to her scrunchies (I have a hat box full of them). They are just the best! But she also makes face masks, amazing duffle bags from vintage fabrics and more!
Click Here
Maribel Hernandez Palomera "Pajaritos"Maribel is a Bell Arts artist who creates non-stop, whether it's clothes, jewelry, pillows, etc… One of my favorite gifts is her little ceramic birds that she calls Pajaritos. They make such a unique and poetic gift!
Click Here
Parlor Room Goods CeramicsI am absolutely crazy about Sarah's modern, stunning barware pieces. They make great gifts. I love her margarita rimmer and cups!
Click Here
The Refill Shoppe deodorantThe Refill Shoppe is one of my favorite destinations in Ventura. A beautiful inspiring store that smells heavenly! One of my favorite products is the all-natural deodorant stick. No plastic to throw away and it smells great!
Click Here
Previous Next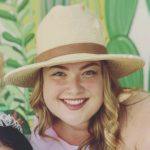 Marketing & Events Coordinator for Ventura Port District / Ventura Harbor Sage Bundles from Barefoot BoutiqueThey have the sweetest little aromatic collection of wrapped sage, palo santo, and lavender. Perfect for clearing bad energy and bidding farewell to a wild 2020. Click Here Ventura stickers from Ventura SwimwearMy water bottle is decked out in a variety of their colorful, coastal stickers. They have everything fun from VW buses to butterflies.
Click Here
Sugar scrubs & soaps from Lemon & LeiI always have their handmade goodies on hand at home. My go-to scents are spearmint eucalyptus and cherry almond.
Click Here
Custom treats from Top This ChocolateThey can whip up your favorite blend of salty and sweet flavors in a matter of minutes. I like to start with a dark chocolate base, mix in something savory like almonds or pretzels, and add lil strawberry bits for good measure.
Click Here
Wooden resin earrings from Anja's BoutiqueEverything in this shop has a chic European vibe and their accessories are extra special. The wooden resin earrings were must-haves for me.
Click Here
Previous Next
Discover More
Get to know Ventura, and discover the best things to do around the city.
Ventura Partners With