Posted: Thursday, Jul 11th, 2019
5 Grab & Go Food Options in Ventura
by Visit Ventura
With due respect to fine linens and attentive wait staff, sometimes you just don't want to sit down in a
restaurant
. Sometimes it's nice to eat with the sun on your face and a beautiful view off your nose. Maybe even spill a little salsa down your front. In Ventura, your grab and go options are bountiful (to endless). And inclement weather (273 days of sunshine) isn't likely to interfere. A few fun grab and go options (and more to come!).
GRAB…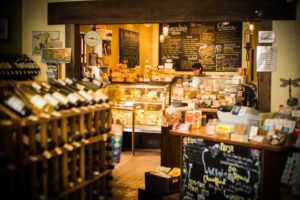 Paradise Pantry
is a fun romantic option. Yes, you can order takeout from their tasty artisan menu. But they also have a market and a wine shop. You'd be hard pressed to find a better selection of cheeses, and if you're fromage deficient they'll assemble a cheese masterpiece for you.
Santa Cruz Market
is off the tourist track but on the local radar because their deli is as good as it is interesting. Great Mediterranean and Middle Eastern fare; their Shawarmas are mouthwatering; chicken, lamb, and tri-tip cooked perfectly, cut thin, and served in a saucy wrap.
Meridians
have gourmet pizzas, specialty salads and tasty sandwiches served on focaccia bread or french rolls (try the Hot Pastrami sub). A short drive down Pierpont Boulevard sees you to Marina Park (see below) where, if you do get pizza, you can spread it out on a picnic table.
Taqueria Tepatitlan
has, among plenty of other authentic Mexican dishes, some of the best burritos on the planet. Try the chile verde burrito, and let us know. Since you'll want to eat it hot, head straight up Grant Park (below) and enjoy great eats with an equivalent view. Sometimes you want something sweet, and, if you're an adult, you can skip right to dessert. Located at Ventura Harbor,
Coastal Cone
has flavors you can't imagine. Be sure to try their signature Fish Waffle Cone. For obvious reasons, this one requires a closer "go." See below.
GO…
Grant Park
sits above Ventura (just above
City Hall
). Here you have the whisper of eucalyptus trees, and one of the finest seascape views in the world. Below you, toy town buildings. Beyond, the Pacific, broken by the rise of
Anacapa and Santa Cruz Islands
. Enough said. Ventura has no shortage of
beaches
for picnicking, but if you want to get away, the beach across from
Ventura Harbor Village
is a good place to do it. Bring a blanket, walk south from the parking lot at Surfer's Knoll, and the world falls away. Unless you want to get all sticky, definitely pairs well with Coastal Cone. At the harbor end of Pierpont Boulevard, you'll find
Marina Park
. Walk along the path toward the mouth of Ventura Harbor. Have a seat at a picnic table and watch the sailboats slide past. Pairs perfectly with Meridians. The beachfront promenade at the foot of California Street offers, well, everything California. You and your chosen take out can take a bench and try to absorb it all; surfers playing in the waves, bikers, runners, and families on the promenade, the lovely wooden span of the Ventura Pier and happiness in the air.
Music Under the Stars
is wildly popular and may offer one of Ventura's most unique picnic options. Over the course of the summer, from July into September, the city hosts a series of concerts in the courtyard of
Olivas Adobe
. Surrounded by 170-year-old adobe walls, nothing but night overhead, the bands play. And you enjoy the delicious fare you brought beneath the summer stars.
For more great stories, request our FREE inspiration guide right to your door!
Check out upcoming events!
Discover More
Get to know Ventura, and discover the best things to do around the city.
Ventura Partners With