Posted: Friday, Oct 27th, 2017
Why You Should Vacation in Ventura Off-Peak Season
photo by Bobby Do Right
blog by Skylar Ryan-Grant
With our great weather year-round, it's hard to believe that the most traditional of vacation times is still our most popular: Summer. But if you're planning on visiting Ventura any time soon, we recommend leveraging those busy times for your benefit by staying with us Spring, Autumn, and even Winter instead. Why, you might ask? The bottom line is, all the amazing things to do in Ventura are not limited to one season. If anything, some of our off-season times are our most beautiful–and one of our best-kept secrets. With sunshine all year, we're the land of endless summers for good reason, but that doesn't mean we don't have seasons. Beat the crowds and keep reading to find out why each season is a killer time to come stay with us.
Spring
. This enchanting and too brief time of year is easily when we get the most rain–in levels most states would laugh at, but still, water sometimes falls from the sky, we promise. If there's going to be a time for inclement weather, this is it. But this is also, hands down, the most ecologically beautiful time of the year to visit the state. Springtime is when our hills turn so lush a green that it has been compared to Ireland or New Zealand. Wildflowers bloom, birds sing, and wild bunnies hop across our favorite hiking trails. This is the perfect time to experience the
Channel Islands
at their most picturesque. Book a ferry with Island Packers and sail out to idyllic
Anacapa Island
or rugged
Santa Cruz
. Take in the rainbow beds of wildflowers and rolling green hills on these mini-snapshots of California in its most primal, untouched state. When you post the pictures, people will ask where it was you've possibly been.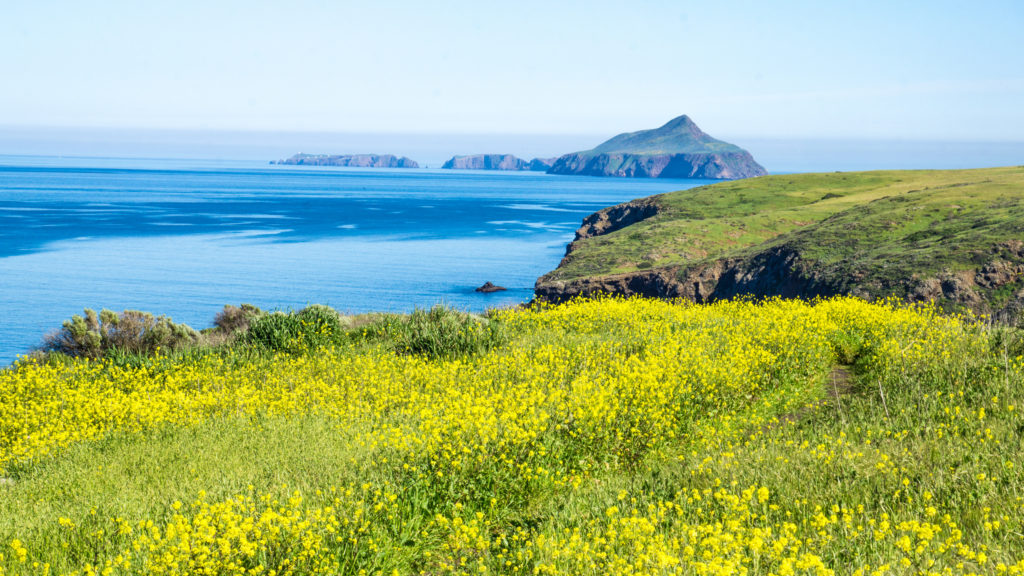 Autumn
. At this time of year, rain is a far-off memory and the sky is crisp and clear. This is the season for stunning sunsets over the Pacific and crystal views out over the water to the Channel Islands, so be sure to book ocean-side accommodations and meals. While many other states are cooling down, we tend to get bursts of heat through Autumn, making it the perfect time sunbath on our famous beaches at least crowded. This is the ideal season to rent a bike and
cycle down the oceanside Rincon Bike Path
, or rent a Pedalina for a ride along the Promenade and Pier. Be sure to stop in at the beach to enjoy the warm weather but less powerful rays. California is a hub of farming, with Fall a traditional harvest time. Head Downtown on a Saturday to enjoy our weekly
farmers market
. Take a bite of proper, crisp Red Delicious apple, and try our famous fresh tamales. We guarantee it won't be like anything you've had at the grocer's.
Winter
. Dry, cool, and clear, Winters are one of our favorite parts of living in Central California, and for good reason. Outdoor activities remain fully accessible during these months, which, while sometimes chilly, are reliably free of inclement weather.
Lace up your hiking boots, hop on a bike
, or stroll our palm-tree lined Downtown with a hot latte in hand, and enjoy the California sun shining on your face. If you're gearing up for the holidays,
we've got tons of locally owned businesses and consignment stores to shop at
. Our artisan coffee roasters will keep you toasty as you prep for your day's adventure, and our
breweries, wineries, and tap houses
will greet you warmly each night. This season is a great time to chat with locals and business owners– or just blend in and be treated as a local yourself. No matter what time of year you visit Ventura, we promise adventures are abound. Summer is a classic, but some of our most iconic seasons happen at other times of the year. Beat the crowds, take your pick of accommodations, and be treated like a local by hitting us up off-season. Everything you love about Ventura stays here after the beaches clear out in September, and we'll be as stoked to see you.
Discover More
Get to know Ventura, and discover the best things to do around the city.
Ventura Partners With