Posted: Monday, Sep 9th, 2019
The Art of Wine Tasting in Ventura
by Visit Ventura
Wine is a subjective matter, which may be it's greatest joy. How else can you decide, unless you try?
Ventura makes wine tasting an easy joy by offering small, informal wineries (often minutes from each other) where there's plenty of room at the counter and a good chance that the pourer is also the vintner or the owner. Or both. And no one likes to talk about
wine
more than the folks who have dedicated their lives to giving grapes a memorable second showing; at some of Ventura's wineries, four generations of lives. These things, and so many others, you may learn as you enjoy a robust red and the neighborly comfort you'll find at wineries like Panaro Brothers,
Plan B
,
Four Brix
, and Old Creek Ranch. For wine is an art, and tasting is too. The art of new friendship, and conversation, and moments in life perfectly spent. And in Ventura, it doesn't get any better than now.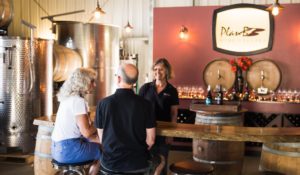 Ed Schwartz, one of the Labyrinth Winery's owners, sums it nicely.
"Ventura has exploded, and it's a whole foodie scene with the breweries, the wineries, the distilleries, and the new restaurants coming in…"
Perfect time to spend some perfect moments.
For more great stories, request our FREE inspiration guide right to your door!
Check out upcoming events!
Discover More
Get to know Ventura, and discover the best things to do around the city.
Ventura Partners With