Posted: Thursday, Feb 14th, 2019
Tall Ships come to Ventura Harbor
by Visit Ventura
The Past Sails into Ventura Harbor
They whisper — and beat — to the heavens of another time. The creak of ropes, the billow and snap of sails. The unpredictable horizon. Taking into account that unpredictable horizon, on February 12th, the Tall Ships Hawaiian Chieftain and Lady Washington are scheduled to sail into Ventura Harbor, where they'll reside until March 5th, before setting sail for the horizon again. Providing you the chance to step back in time.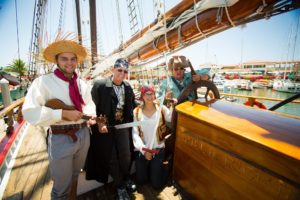 The two sailing ships will dock in front of the waterfront promenade of Ventura Harbor Village, but they won't stay in port. Over the course of their Ventura visit, both the Hawaiian Chieftain and Lady Washington will set out on various sails. You can sail for love (Valentine's Day), you can sail for war (a three-hour "Battle Sail"), you can sail for an appreciation of natural history (the Natural History outing), or you can sail just for the feel of the deck swaying beneath your feet (for tickets and specific dates — all weather pending —
please call
, or visit their
website
). And with future horizons in mind, the Tall Ships have always looked to the next generation: the ships host more than 8,000 school children each year. Educators can contact the Historical Seaport education office — again,
call now
— to arrange dockside, or on-the-water programming, while the ships are in Ventura. Of course, the seas aren't for everyone. Inclined to mal de mer, or just can't find the time for a sail, but still want a good, long panoramic look at the majesty of a ship under full sail? Check the sailing schedule, then position yourself up in the viewing tower at
Channel Islands National Park Visitor Center
. The Hawaiian Chieftain and Lady Washington sail down the West Coast, stopping in ports and harbors for historical and educational visits. The Hawaiian Chieftain was built in Hawaii in 1988, designed originally cargo trade between the Hawaiian Islands. Launched in 1989, Lady Washington is a full-scale reproduction of the original Lady Washington. Built in the 1750s, she was one of the first U.S. flagged ships to explore the west coast of North America. And now she is back.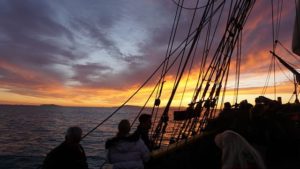 Discover More
Get to know Ventura, and discover the best things to do around the city.
Ventura Partners With