Posted: Monday, Sep 30th, 2019
Best Places in Ventura to Get Coffee
by Visit Ventura
Coffee is part of our fabric. More than a chipper beverage, it's also something of a philosophy. No doubt, coffee serves its caffeine function. In big cities, early morning commuters charge counters, throwing down coffees/espressos/anything within hand's snatch like cowboys at a saloon. But we're not a big city, are we? In Ventura, coffee's philosophy is a slower, more sensuous affair, a lovely savoring of steam, cream, and the moment. And, as any true professional knows, the beverage also cries out for proper accompaniment.
How could you possibly take a seat at Cafe Du Suro and sip your coffee without a maple bacon croissant at your side?
That's a rhetorical question.
Happily, Ventura brims (sorry) with great coffee — and equally tasty accompaniment. September 29th was National Coffee Day (like the coffee industry needs a gimmick to sell more coffee), but, odds are, you'll be looking to savor a great coffee experience between now and National Coffee Day 2020. So, a smattering of great coffee spots in Ventura. Yes, it's nowhere close to all-inclusive (this is a blog, not a novel), so feel free to chime in with your own favorites.
Prospect's coffee bar is just a fun place to hang out, and plenty of locals know it. The coffees are great too. Behave yourself. The principal of the nearby middle school frequents the place.
Shannon Wright designed her feel-at-home gathering spot to pay tribute to the neighborhood coffee shop, and so it is. Except maybe your neighborhood coffee shop doesn't have a pastry chef like Shannon.
Located in the heart of downtown on Main Street, Cafe Du Suro is a great place to grab an outside table, sip first-rate coffee, and watch the world go by. Oh right, and people are reduced to slappy-happy grins at the mere mention of their fresh-baked croissants. Yep, try the maple bacon croissant. And maybe the white matcha mocha latte.
The sign out front states, "Coffee & Gelato," which is your cue to try their amazing affogato (gelato, yummily drowned in espresso). There's also a fun gift shop in the back of the store. They, too, are right downtown on Main Street, with people-watching tables out front. Offering the opportunity to sip, nibble, wander, and repeat. Slowly.
Beacon specializes in sourcing and roasting a curated selection of ultra-premium coffees, handpicked from around the globe. They're a little off the tourist track, but they went to the ends of the earth to find fine coffee, so you can drive ten minutes from downtown. It will be worth it.
Simone's is a long-time local favorite. Serving local artisan coffees, roasted in small batches, for twenty-three years they were a little off the tourist track (on the East end of town; where locals kept them hopping). But they recently opened another coffee house on Cabrillo Drive (next to Community Memorial Hospital). Either location is good for a slow savor.
They offer a wonderfully paralyzing selection of coffees, espressos, and teas. Just as happily, after apprenticing with Italian, German, and French chefs, owner and executive chef Bryan Scofield leaned French — and specialized in pastries and desserts.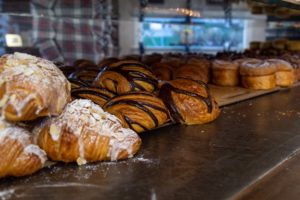 There are plenty of other great coffee offerings in Ventura (again, feel free to chime in with your favorites). So go where you will. Or, maybe slowest and most sensual of all, get your coffee to go. Head for the beach (
Kay's Coffee Shop
, on the beach end of Seaward Avenue, is a great option). Watch the sunrise/set/hang happily in the blue sky) as Pacific cool washes across your toes. Savor the moment. Because it's what we have.
For more great stories, request our FREE inspiration guide, delivered right to your door!
Check out upcoming events!
Discover More
Get to know Ventura, and discover the best things to do around the city.
Ventura Partners With