Posted: Friday, Dec 15th, 2017
20 good things that happened in Ventura since the Thomas Fire
In no particular order, here are a few awesome things that happened in Ventura since the Thomas Fire.
1. Surfboards for first responders
Neighbors at Ventura's Surfers' Point rallied to gather surfboards, stand-up paddle boards, and wetsuits to lend to first responders during their time off. Within 20 minutes of putting up this sign, there over 20 firefighters in the water. A surfing town will always be a surfing town.
2. Diamond necklaces for those who lost their homes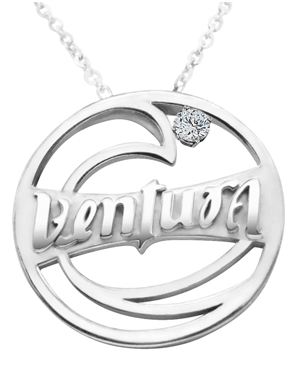 Fox Fine Jewelry in downtown Ventura made two diamond necklaces to give free, to the 800 that lost their home. You can buy the diamond necklaces and support the survivors of the Thomas Fire! For every necklace sold, Fox Fine Jewelry will donate 50% to the Thomas Fire Fund. 
Learn more here.
3. Kids matched with first responders in letter-writing campaign
Two teachers from Cabrillo Middle School and one from Elmhurst Elementary have partnered to coordinate a letter-writing and art campaign. While their objective is to express gratefulness to the first responders keeping us safe, they also hope the exercise will serve as part of a healing process for all of Ventura's students impacted by the Thomas Fire. Classes, groups, or families are being matched with first responders including fire, law enforcement, sheriff's, public works, forestry, and the National Guard. The campaign runs through January 21st. Join them to create a flood of good-will and honor all of the first responders, near and far. 
Sign up here.
4. Actor offers to match donations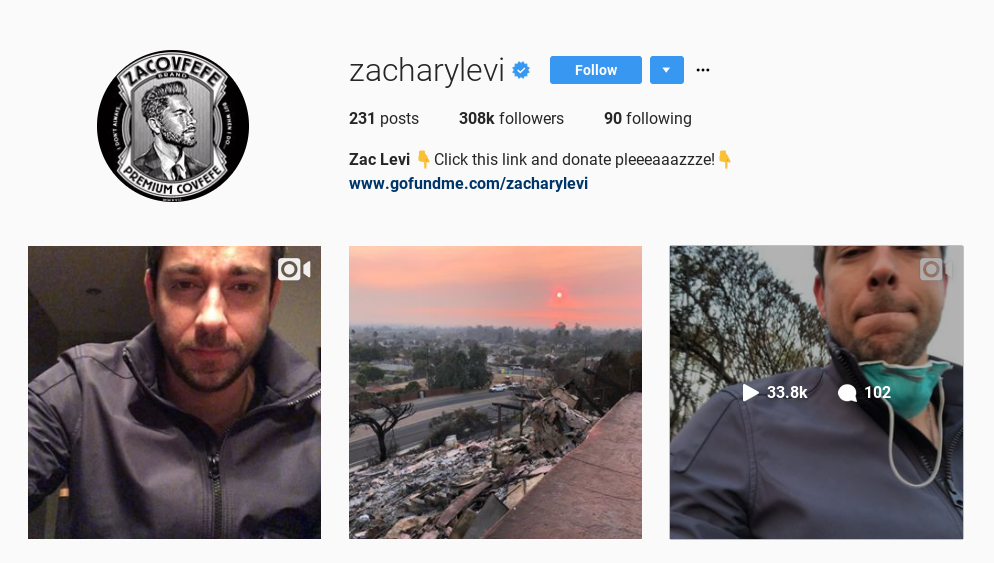 Actor
Zac Levi
grew up in Ventura and when he saw the Thomas Fire in the news, he knew he had to lend a helping hand. Levi has started a fundraising campaign and is matching donations up to $50,000. 
Learn more here.
5. Ventura County Supervisor Steve Bennett opens his home to evacuees
At a community meeting in Ventura on Saturday, Ventura County Supervisor Steve Bennett said, "There are a number of low-income people who have been burned out. Many of us are going to have to open up our homes." In fact, he already had. Supervisor Bennett is hosting a family whose son plays soccer with a family friend. Since, his office has also set up a program through Homeshare of Ventura to encourage others to do the same.
6. SLO hotel hosts evacuee reception
Upon seeing how many evacuees from Ventura County were seeking a safe space in San Luis Obispo, the general manager of the Sands Inn and Suites offered significantly discounted hotel rates and worked with Visit SLO and other partners to organize a reception for any evacuees in the area. At the grill was an evacuee from Ojai and behind the bar was one of the hotel owners.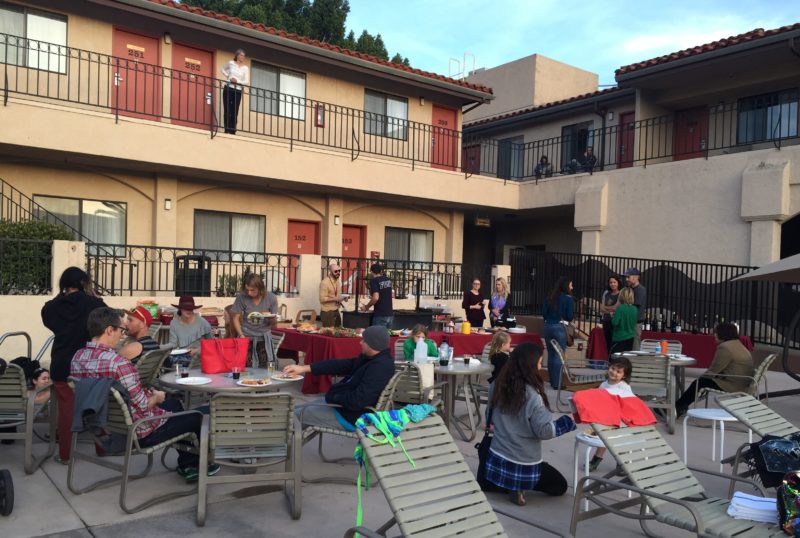 7. Schools donate food, avoid waste
After having to close and knowing their food was going to go to waste, institutions including several schools in Ventura and Ojai made the effort of donating their food to relief efforts. Fresh ingredients were used by the World Central Kitchen who has served over 36,000 meals to first responders and evacuees. The organization has also received food donations from Trader Joe's, Houweling's Tomatoes, and Petty Farms among others.
8. Ventura's Sister City contributes to fire relief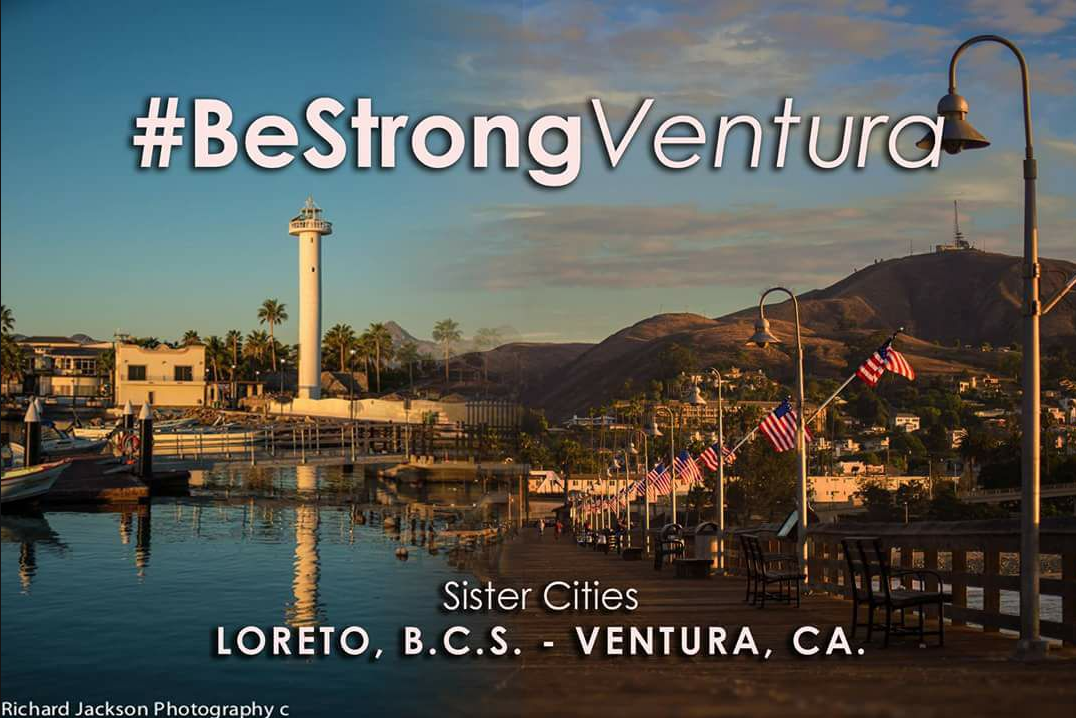 Ventura's Sister City, Loreto in Baja California, has watched the Thomas Fire on the news like everybody else. Many of them have been here and were touched by what our community has had to endure. They came together and made a contribution to the Ventura County Community Foundation in support of disaster relief.
9. Ventura Theater Spreads Holiday Cheer
Rubicon Theatre Company has offered free theater tickets to first responders and anyone affected or displaced by the fires. This includes tickets to their annual critically acclaimed production of Charles Dickens' A Christmas Carol. They hope to bring joy and holiday cheer to those who need it the most.
10. Ornament decorations and gift share
Knowing that many families lost their homes (and their Christmas trees), the Museum of Ventura County offered to host arts and crafts including ornament decorating, a gift-share program, and a letter-writing campaign for first responders. Knowing school closures have caused many families to do a lot more entertaining than they had expected, the museum is also playing family movies throughout the day and offering free water and snacks.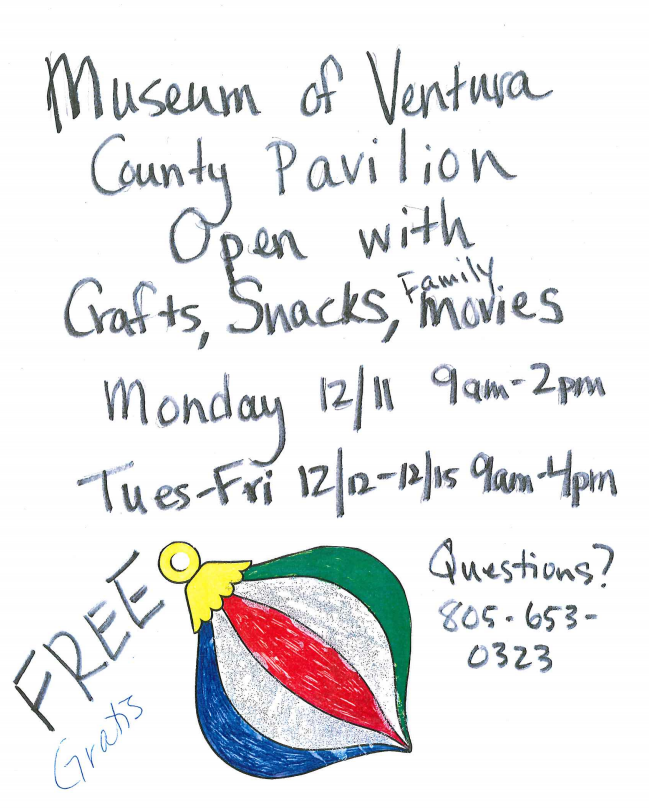 11. @HelpCalifornia Initiative
Soon after the Thomas Fire began, Iron & Resin in downtown Ventura launched an initiative called Help California and is taking over the space adjacent to their Ventura store as a pop-up command post and distribution center to provide aid and assistance to community members. They're sending multiple strike teams out daily to help residents making a stand and empowering neighbors to help their neighbors. Once they're able to get into some of the areas already burned, they will also assist with cleanup and recovery efforts. Quiksilver dropped off 25 boxes of clothing to support their efforts. 
Learn more here. 
12. Venturans help save the Poinsettia Pavilion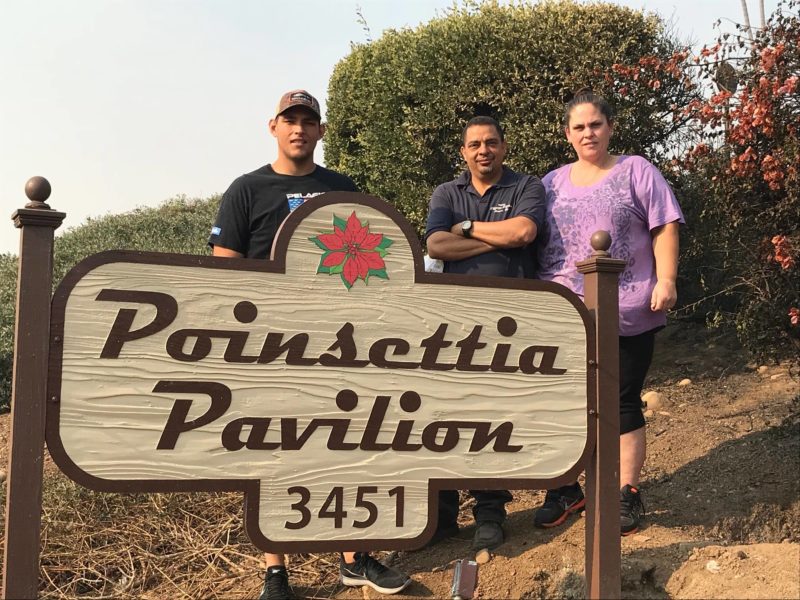 The night the Thomas Fire started, Hector Andrade, the Poinsettia Pavilion's caretaker for more than 20 years, saw it coming down the hillside. Together with his wife and son, they turned on the sprinklers, grabbed hoses and shovels, and fought back the flames. Hector refused to leave until the firefighters arrived and even then, stayed across the street. Once they allowed him to return, he was back at it putting out hot spots and protecting the building throughout the night. The fire came extremely close to the building used by several local nonprofit organizations, but in the end, it was saved.
13. Ventura Coast Brewing Company Fundraiser
After being contacted by Ventura Pop Up Yoga, Downtown Ventura, and friends from BioFitness in Ojai, all of who were eager to do something for a community they love, VCBC decided to host a silent auction with live music and a portion of beer sales donated to disaster relief. Once the Facebook page was created, it seemed all of Ventura was looking for a way to help. They received messages from various businesses and community members who wanted to donate items for the silent auction or help in other ways including Main Course, Raggamuffin Coffee Roasters, and Honey Cup Coffee and Kitchen. A young girl's mother also reached out because her daughter wanted to set up a table where people could make thank you cards for first responders. In an effort to raise more funds, VCBC recruited a designer to create a Ventura Strong design and their merchandise producer, John Cole Marketing, donated all of the merchandise to be sold. The event was an incredible showing of support and VCBC raised over $30,000.
14. 805 Strong Network.
Venturans helping Venturans. The 805 Strong Network is a local, grassroots effort to help 805 residents who were impacted by Thomas Fire. #805Strong has helped find housing, coordinate fundraisers, donate supplies, and give a sense of purpose to many locals wanting to roll of their sleeves to help their neighbors.
15. World Central Kitchen Thomas Fire Response
Daily 1,500-2,000 meals are prepared in the commercial kitchen at Mission San Buenaventura by professional chefs and hundreds of volunteers directed by Chef Jason Collis. As of December 17, 2017, more than 17,000 meals have been prepared at the Mission and delivered to sites throughout the two counties. Meals are served to first responders, firefighters, the National Guard, evacuation centers, the Boys and Girls Club, and more.
Sign up here.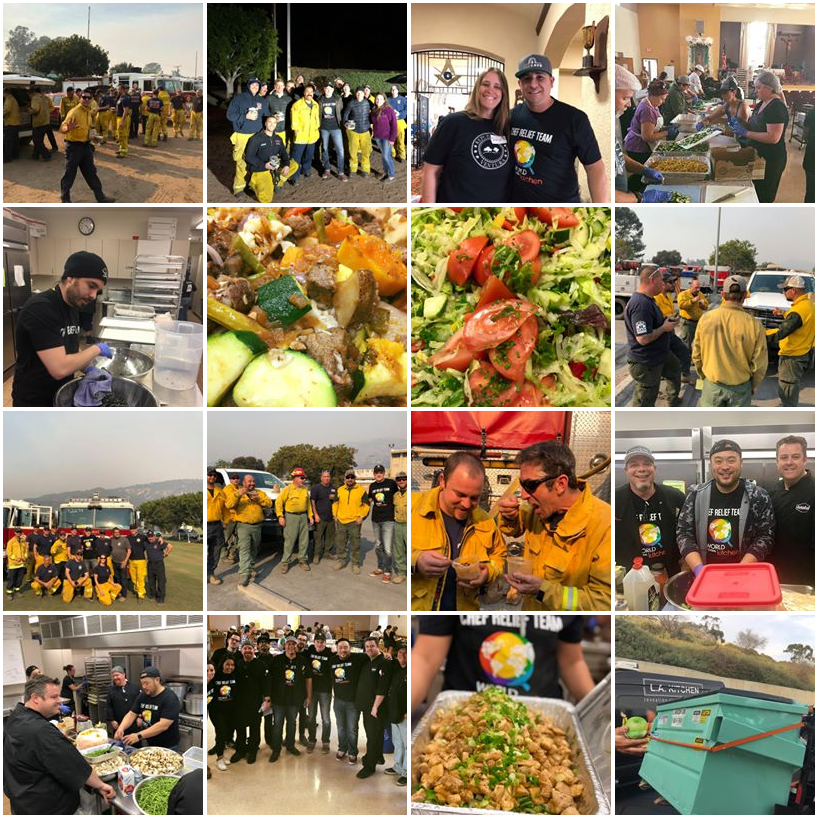 16. Los Angeles Chargers donate $250,000 to fire relief
After more than a week of fires that have ravaged land and homes throughout Southern California, CBS2 and KCAL9, in partnership with the American Red Cross, organized a telethon fundraiser Thursday to help those affected by the destruction and raised over $400,000, including a very generous donation of $250,000 from the L.A. Chargers. 
Learn more here.
17. Pete's donates hundreds of breakfast burritos
Pete's Breakfast House was open the day after the Thomas Fire burned only a few blocks away but was focusing all of their efforts on serving first responders. For those who couldn't make it, Pete's made hundreds of breakfast burritos and dropped them off at Ventura County Fairgrounds for any hungry first responders.
18. Verizon waives data limits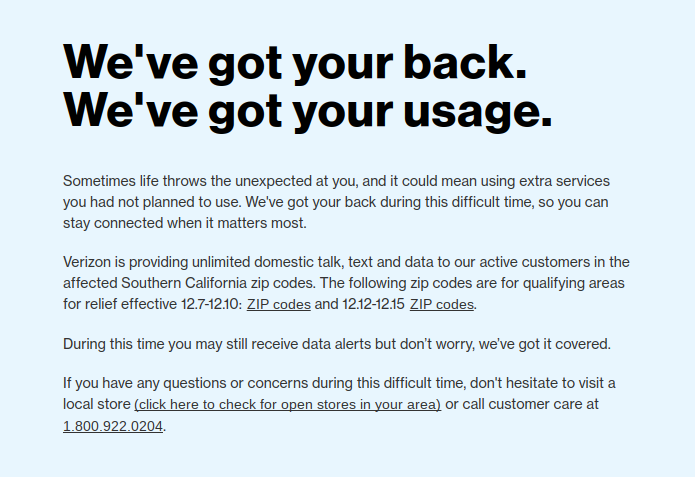 19. Apple donates $1 million to fire relief efforts
"Our thoughts are with all those affected by the fires in Southern California, including our colleagues, friends and their families. Apple is donating $1 million to aid in the rebuilding and recovery efforts of the communities that have been impacted."
20. Los Angeles Rams player brings gifts to shelter in surprise visit
Johnny Hekker, punter for the Los Angeles Rams, used his day off last week to visit the Red Cross shelter at the Ventura County Fairgrounds. Moved after seeing evacuees who had lost everything,  he made his way to Target where he bought as much clothing, supplies, and toys as could fit in the back of his truck. 
Learn more here.
The Rams star has since also designed a t-shirt to benefit fire relief. The shirt is designed similar to a fire relief team's shirt to show that we're all on the same team whether we're firefighters, football players, or anybody else in this time of need. Learn more here. Rams linebacker Robert Quinn and wide receiver Tavon Austin also have plans to buy and furnish a new home for a family who lost theirs in the fires. Thank you for being awesome!
Discover More
Get to know Ventura, and discover the best things to do around the city.
Ventura Partners With