Things to do in Ventura County Coast: Getaway Guide by anytots.com
Things to do in Ventura CA:
Stroll, Shop, & Play at Ventura Harbor Village
There are plenty of things to do in Ventura but I would suggest starting your trip with a visit to Ventura Harbor Village.
If you intend to ride a boat to visit the Channel Islands, you can depart from here or from the Oxnard Harbor through Island Packers.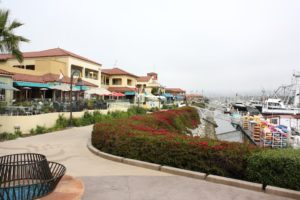 While here, I highly recommend checking the sock shop and Barefoot Boutique – you're going to want to buy everything. While the adults check the art galleries, kids can enjoy a vintage carousel ride, play arcade games, and a candy shop.
Dining here gives you an amazing view of the harbor. After lunch, go for some watersport activities and grab dessert at Coastal Cones before leaving.
Parking is free.
Ride a Duffy Boat at Ventura Harbor Village
While you're at Ventura Harbor Village, make sure to rent a Duffy boat and go for a leisure boat ride around the Ventura Keys.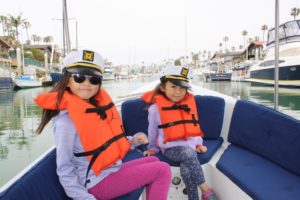 The kids were able to steer the boat which I thought was a really neat experience for them. This was probably the most memorable thing we did in Ventura as it was our first time doing it.
If you're not visiting Ventura with kids, I still recommend doing it, I think it would be pretty romantic.
Rental will only cost you $67/hr via Ventura Boat Rentals. If you want to do a little more work, they also rent out kayaks, stand-up paddle boards, and pedal boats which the kids really wanted to do except my legs were not up for the legwork that day, haha.
Dine at The Greek Restaurant
You have a few restaurant options at Ventura Harbor Village. During our visit, we dined at The Greek Mediterranean Steak & Seafood Restaurant and it didn't disappoint.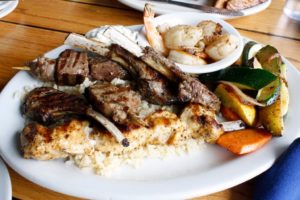 You can enjoy breakfast, lunch, and dinner here or you can also just grab drinks by the bar. I believe they also have nightly entertainment during weekends.
I do recommend ordering the Surf N' Turf Platter – the lamb chops were really good and tender, the rice was really good too.
Since we arrived early (before lunchtime), the kids shared a huge plate of French Toast but also had some of our chicken kabobs.
On a future visit, I would like to order other things on the menu that I was eyeing during our visit yet do not have space for like the Saganaki flaming cheese, baklava cheesecake, moussaka, and many more.
Grab a Taiyaki at Coastal Cone
Oh wait, we spotted a mermaid at Ventura Harbor Village – in ice cream form!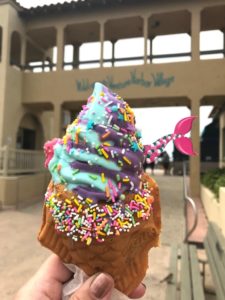 Visit Coastal Cone while you're in Ventura and order your ice cream on a Taiyaki cone (Japanese fish-shaped waffle cake). You can order from their pre-set signature flavor combinations or build your own. The Oreoyaki was really good as they spread Nutella inside the cone before topping it with Oreo ice cream.
Besides Taiyaki cones, you can also visit Coastal Cone if you're a fan of Disneyland's Dole Whip.
Other things on the menu? Shakes, sundaes, plenty of other ice cream flavors, and other desserts with locally grown strawberries.
Stroll through Ventura Pier
After visiting Ventura Harbor Village, you can go for a quick drive to visit Ventura Pier and Ventura Beach Boardwalk.
Ventura Pier, made of wood with steel pipings, is the 8th longest pier in California. It was once one of the longest but they shortened it by 300 feet in 1996.
At the very end of Ventura Pier, you'll find an American flag. Go for a stroll before sunset and gaze inland to Ventura's hills on your way back.
At the start of the pier right when you get up the stairs is Beach House Tacos. Try to time your visit so you can grab some tacos and deep-fried bananas. There is a line to order food, I would have waited except we were too full to eat – another reason to visit Ventura again.
Rent a Bike at Ventura Boardwalk
Looking for things to do in Ventura with kids? Put surrey bikes on top of your list. We rented a single surrey which can fit 2 adults and 2 young kids in the front through Wheel Fun Rentals located just under Ventura Pier.
Our 8 yr. old actually cannot fit in the front anymore so she sat with us in the back. I'd say another year and she should be able to help us pedal already.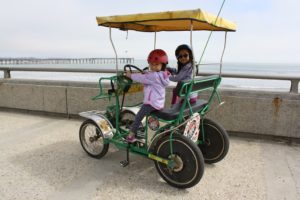 For bigger families, you can rent a double surrey to fit 4 adults and 2 young kids. They also have other bikes for single riders like the "chopper".
There are other spots in Ventura County Coast to rent them. If you're staying at Embassy Suites Mandalay Beach, just head out of the back gate towards the beach and you can rent them there.
Play at the playground adjacent to Ventura Pier
Surrounding the Ventura Pier is San Buenaventura State Beach where there is a play structure. Let the kids burn off some energy for a great naptime back at your hotel or to work up some appetite before dinner.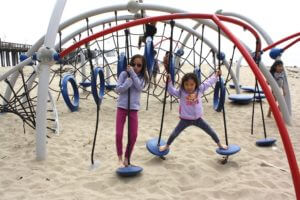 Stroll through Downtown Ventura
After some time in the sand at San Buenaventura Beach, head for a quick drive to stroll around Downtown Ventura where you'll enjoy perusing through unique stores, bakeries, and restaurants.
You may park at the free parking structure on Santa Clara St. and California St.
On your way in into Downtown Ventura, you will find San Buenaventura City Hall at the top of California street. It is the former Ventura County Courthouse built in 1912-13.
A State of California Historical Landmark listed on the National Register for Historic Places, it is noted for its gleaming terra cotta exterior, copper-sheathed dome, and elegant Italian marble foyer.
Visit Mission San Buenaventura
Founded on March 31, 1782, Mission San Buenaventura was the ninth Spanish mission established in California.
Go for a self-guided tour of Mission San Buenaventura while visiting Downtown Ventura.
A Self-guided tour includes seeing the museum, grotto, Mission Church, a licensed replica of Michelangelo's Pieta, and Padre's Burial and Settling Tank. The Mission has a very beautiful garden as well that I hope we can replicate in our backyard complete with a fountain in the middle. Visit it to see!
Indulge in Gelato at Palermo
While we were strolling the charming Downtown, we spotted a gelato/coffee place where we had one of the best gelatos we've ever tried – at Palermo Coffee & Gelato.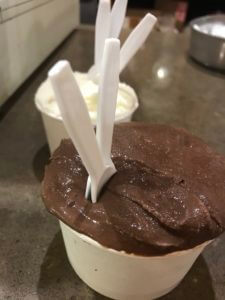 Their gelatos are $5 per small cup but it was so rich both in flavor and in ingredients. The kids shared a chocolate gelato while I had the macadamia coconut gelato. Yummy in my tummy!
Hike Ventura Botanical Garden
After strolling Downtown Ventura, I highly suggest visiting Ventura Botanical Garden for a hike.
It is located behind the Ventura City Hall and it has a magnificent view from the top overlooking the Pacific Ocean.
While hiking up, you can see lots of wildflowers. You have the option to cut through and take the stairs or walk the path.
It's not really a hard hike for the kids but we decided not to finish the whole thing just to be sure. We just went all the way to where it overlooks the view below.
Entrance is free every Tuesday.