Traveler Cafe
1070 E Front St
Ventura, CA, 93001
(805) 667-8229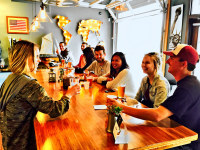 Come and enjoy the relaxed atmosphere and great food Traveler Café has to offer! Experience Ventura-style dining at Dinner with entrees such as Crispy Skin Salmon and our ½ lb Cheeseburger with Bleu Cheese and Bacon Jam, cooked to order. Pair your meal with a locally sourced draft beer or glass of wine.
For Brunch try Eggs Benediction – eggs benedict with a Traveler Twist, or choose from a wide selection of breakfast favorites and house-made pastries! Delicious and original dishes on the menu for Breakfast and Lunch as well.
We offer a traffic-free, dog-friendly outdoor patio to soak up the sunshine and ocean breezes. Exhibits of local artwork are to be found on our walls, with new work exhibited every few months.
Happy Hour every Thursday – Saturday from 4 pm to 6 pm.
Live Jazz Thursdays from 5 pm to 7 pm with Martin & Macias.
Reggae, Soul and Ska with Bernie Larsen, Fridays from 5 pm to 7 pm and Sundays from 11 am to 1 pm.
Traveler Café is the perfect place to experience the pleasure of great food, creativity and community spirit that is Ventura!
Happy Hour:
Thursday – Saturday | 4:00pm-6:00pm
Draft Beer $5 – $6
House Wines $5
Happy Hour Special Small Plates!
Live Jazz with Martin & Macias – Thursdays, 5 pm – 7 pm
Live original Reggae, Blues and Ska with Bernie Larsen -Fridays, 5 pm – 7 pm