Austen's Restaurant
550 Sanjon Road
Ventura, CA, 93001
805-643-6144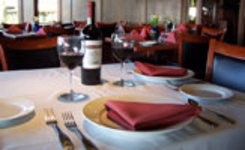 Enjoy Classic California Cuisine in our restaurant overlooking the Pacific Ocean.
Open Daily, New Menus!
Breakfast: 6:30 a.m. – 10:00 a.m.
Lunch: 10:00 a.m. – 4:00 p.m.
Dinner: 4:00 a.m. – 7:00 p.m.
Happy Hour in the Sunset Café
Monday – Friday at the Bar from 3:00 p.m. – 6:00 p.m
Special Limited Menu: Early Bird Dinners
Monday through Thursday
4:00 p.m. – 6:00 p.m.
For generations, families have gathered round our tables to enjoy good company and heartwarming dishes prepared fresh from our kitchen.