Clockwise, from left: Ride the coastal bike trail; Bring your furry family, Ventura is pet friendly; Cruise along Ventura Pier; Surf one of the state's best surf breaks
Then, just get out there
and explore
Ventura is also, plain and simple, an outdoor town. Pointing out its sun-splashed days and bright, starry nights is a bit like pointing out a retiree in Florida. So, let's go a little deeper. The town has deep surf roots. California's first professional surf contest was held here, and some of the world's best surfers call Ventura home. When there is a swell running, the jewelry store clerk, the bank president, the art gallery owner…everyone's hair is damp, their smile loopy. Truth is, surfer or not, I feel like this giddy happiness pervades the town like the salt that hangs in the air. It's contagious, like being on a preschool playground.
Since Ventura is rooted in the sea, I recommend plunging in yourself after your history tour (the Pacific's just over a mile away from Main Street). Plenty of local surf schools offer lessons and, trust me, there's no giddier a time than your tottering first ride. It's perfectly fine to just watch the surfers, too. One of the best vantage points is the historic Ventura Pier (one of Southern California's last wooden piers). Time your pier stroll so you also watch the sun set behind the Anacapa and Santa Cruz islands.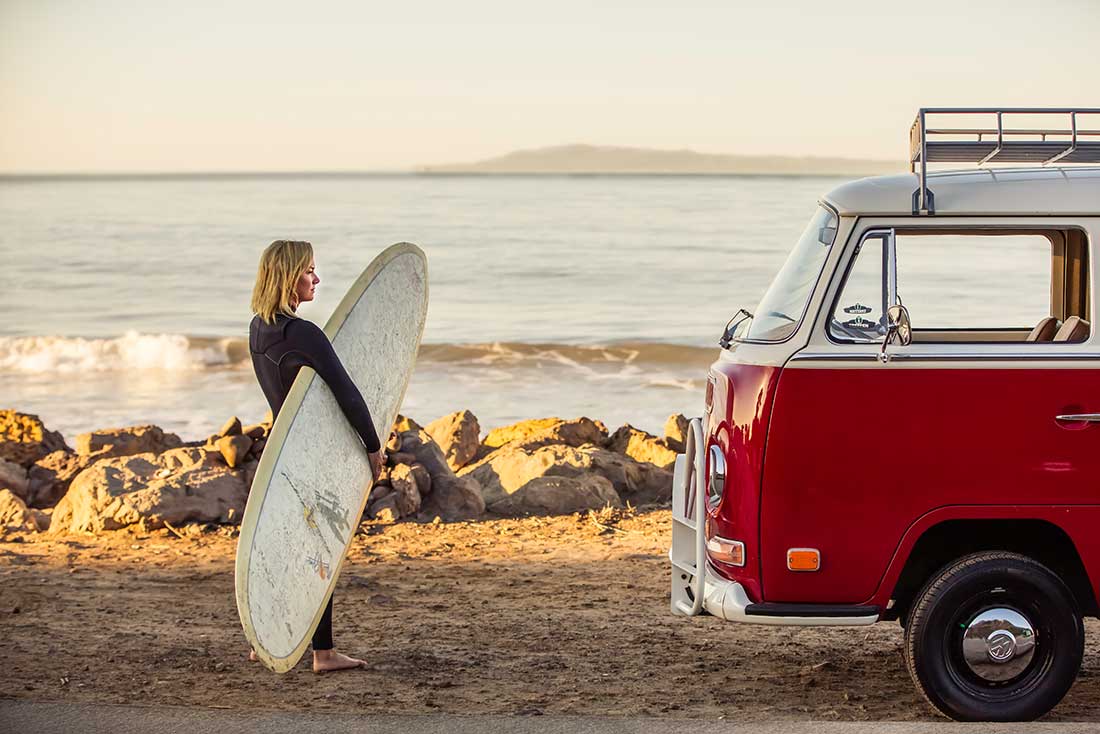 Sticking with the watery outdoor theme, and tossing in a little shopping too, set aside an hour or two to stroll through Ventura Harbor and its village of shops (a great place for signature local gifts, from paintings and pottery to clothing). At the harbor, you'll also find the Channel Islands National Park headquarters, home to films and kid-friendly exhibits that highlight the islands known as "the Galapagos of North America." Be sure to head into the headquarters' tower for another panoramic ocean view.
You don't have to be on the water to feel this playground joy. Slip on a pair of hiking boots and head up into the hills behind Ventura's City Hall, just a little farther inland, where a hike through the Ventura Botanical Gardens rewards you with local flora, but also provides a breathtaking hawk's eye sweep of ocean, farmland and toy towns running to the Santa Monica Mountains. If bike riding is your thing, don't miss the new Rincon Bike Trail. It runs right beside the sparkling Pacific: plenty of local outfitters provide bikes and ride advice. Mine would be to stop and enjoy the beach, two steps away.