The Victorian Rose Bed & Breakfast
896 E. Main St.
Ventura, CA, 93001
(805) 641-1888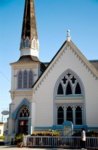 The Victorian Rose is situated near the heart of Downtown San Buenaventura and is close to Ventura's famous boardwalk and the pier. The Victorian Rose Bed & Breakfast is a true treasure. Originally, it was a church and wedding chapel that is now renovated yet still maintains its historical and luxurious quality. Rooms with fireplaces, full bathrooms, and oodles of charm are available!
The Rooms:
-Wisteria Gardens Room: It is charmingly quaint room with a lovely stain glass window.
-Fleur de Lis Room: It is decorated with French decorum, glossy brass, marble and hand carved wood.
-The Victorian Rose Room: It is filled with hand painted furniture and provides a refreshing outdoor patio.
-The Emperor's Room: It has a 15 foot staircase that leads to an exquisite balcony and is decorated with Old World China decorum such as Royal Dynasty doors.
-The Timeless Treasures Room: It is the most spacious room and has an absolutely marvelous stained glass wall.
Features:
-One of Ventura's oldest landmark buildings
-Historically, it was a church and wedding chapel
-Renovated
-11 foot ceilings
-Fireplaces
-Tile baths
-Television
-Free wifi
-Air conditioning
-Heating
-Home cooked breakfast is given on a formal dining table- delightful breakfast includes things such as: Frittatas, Creme Brulee French Toast, and Swedish pancakes.
-Located in downtown with a walking distance to wonderful locations