Squashed Grapes
2351 E. Main St.
Ventura, CA, 93003
(805) 643-7300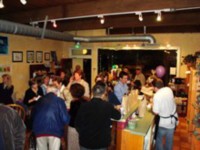 Squashed Grapes is a unique business located in Ventura specializing in On-Premise Wine Making and Wine & Beer Homebrew Supplies.
Since 2003, Squashed Grape's dedicated staff has been helping turn Wine Lovers into Wine Makers!
Once your wine is ready to be bottled, you have the option of hosting a Bottling Party!You can invite up to 10 of your friends to join you in the very hands-on and fun process of bottling your Wine! You and your friends will: Sanitize your bottles, fill & cork your bottles, apply your custom labels and decorative bottle tops!  Bring your own food, your own music; the store is yours for the night!
Come in anytime and our knowledgeable staff will help you choose from dozens of different wine varietals to find the perfect "Squashed Grapes" for you!
Learn how to make unique, quality wine with personalized labels in a fun and hands-on environment! 
Also, visit our Wine and Beer Supply Shop and Gift Boutique!