Downtown Harbor Trolley
N/A
Ventura, CA, 93001
(805) 827-4444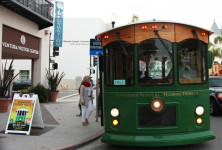 The Ventura Downtown-Harbor Trolley stops at Amtrak Platform, Ventura County Fairgrounds, Ventura Visitors Center, Pierpont Blvd. at South Seaward Ave., The RhumbLine Restaurant and the Ventura Harbor Village.
The trolley will also pick up from local beach hotels. Just give the driver a call (805) 827-4444
The 25-passenger trolley transport Ventura residents and visitors between the city's downtown and harbor.
The trolley is free and makes roughly 45-minute loops from Downtown to the Ventura Harbor Village. It runs 11am-11pm Wednesday through Sunday.