Downtown Harbor Trolley
Ventura, California, 93001
805-827-4444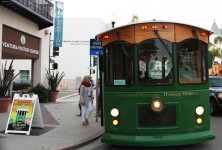 DOWNTOWN HARBOR TROLLEY IS OUT OF SERVICE UNTIL 4/19!
The trolley normally operates from Wednesday to Sunday, from 11am to 11pm.
Times are subject to change. Please call 805-827-4444 or visit VenturaTrolley.com for the most up to date information.
Calls will not be answered during designated breaks
The Trolley stops include:
Amtrak Platform/VC Fairgrounds on Harbor Blvd. and Figueroa St.
Important Note: From August 3rd to August 14th (the duration of the Fair), the Trolley will NOT be picking up at the regular Amtrak Platform/VC Fairgrounds and will instead be picking up from the corner of Thompson Blvd. and Figueroa St. However, the trolley will continue to run on its usual dates and times.
Located in historic Downtown, the Ventura Visitors Center is a great place to stop for information, souvenirs, and friendly assistance! Stop on by with any questions you have, then take a short walk up to Main Street for eclectic shopping and eateries or walk down to the Ventura Pier for never-ending beachfront.
Founded in 1782, Mission San Buenaventura is an active parish in the center of the downtown district. Tour the Mission, the gardens and the Museum with entrance via the Gift Shop on Main Street.
Pierpont Boulevard at South Seaward Ave.
This stop is located on Pierpont Boulevard near South Seaward Avenue, outside the Surf'N Yogurt shop.
Ventura's scenic Harbor attraction across from the beach, welcomes visitors to relax and enjoy more than 35 seaside boutiques, art galleries, and waterfront restaurants.  Home to delicious seafood dishes, chowders and famous fish n' chips, the Harbor has a variety of cuisines from French and Italian, to fresh Mex and Greek.  Family fun features a Village Arcade & Carousel, Coastal Cone ice cream, a waterside coffee house, on the water with kayak, electric, SUP and peddle boat rentals, as well as a beautiful walking Promenade that winds around the boats. Weekend Harbor Tours start at Noon and explore the harbor, wildlife, and view the homes in the Ventura Keys. Live music on weekend afternoons, fabulous Happy Hour menus, colorful seaside cocktails, and Ventura Harbor Comedy Club entertain guests into the evening.  Open breakfast, lunch and dinner.  Shops 11am – 6 pm. Check out the daily calendar of events &  monthly festivals @venturaharborvillage.com.
The trolley will also pick up from local beach hotels.
.