Posted: Monday, Dec 23rd, 2019
What can I do in Ventura on New Year's Eve?
by Visit Ventura
The end of the year is a time of many questions. Where am I going? What do I want to accomplish with my life? Where did I put my cell phone? What can I do in Ventura on New Year's Eve?
Well, we can answer at least one of those questions.
Here's to the end of 2019, and the dawn of 2020!
Downtown Ventura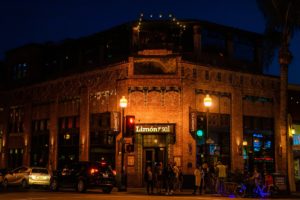 369 East Main Street
(805) 628-3513
"See Clearly in 2020"
9:30 am – 11:00 am
$30
Say goodbye to 2019, and lay the foundation for 2020 in a 90-minute practice designed to engage your every sense, rouse your intuition, and heighten the vision you have for the year ahead.
143 South California Street
(805) 643-4404
The party starts at 9:00 pm
$10 cover charge
Special DJ performances by Erok, Lil Wicked, and Cam. And always a great time.
450 East Harbor Boulevard
(805) 648-2100
Rockin' 80s New Year's Eve Celebration
Plated dinner and party starts at 8pm ($199)
Party only starts at 10 pm ($100)
Party the night away in their Top of the Harbor Ballroom with 300-degree panoramic views of the coast and Ventura. Dance to live sounds of 80s Invasion. 80's dress encouraged but evening cocktail reception attire works too. Two ticket options — plated dinner and party (starts at 8 pm) or party only (starts at 10 pm). All tickets include an open bar.
593 East Main Street
(805) 648-3001
The party starts at 9:00 pm
Plenty of drink specials at one of Ventura's best pubs. They claim they'll perform Ventura's biggest balloon drop at midnight.
585 East Thompson Boulevard
(805) 628-9474
7pm – 9pm
Celebrate New Year's Eve with local favorite, FIDO. They cover all the songs you know — making it impossible not to dance. Tasty organic beer to boot.
598 East Main Street
(805) 628-3868
8 pm – 2 am
All White Outfit Party
$25
Live music by Instone, and some of the 805's hottest DJ's, including Dj Honey, Dj Cue, Alex Barajas, Chubbz, Pistolero, Lil Wicked, Benske and Depeachmode.
Oak & Main Restaurant Bar & Music Lounge
419 East Main Street
(805) 648-6862
Mandex
Doors open 6 pm. Music 9 pm – 12:30 am
$10
Mandex, Ventura's loudest Hair Metal Tribute Band, brings in the New Year. Why not have some fun? You don't need to hear anything the next day.
26 South Chestnut Street
(805) 653-0118
New Year's Show Featuring Donavon Frankenreiter and Tom Curren.
8:00 pm – 10:00 pm (doors open 7 pm)
$33.20 – $43.45
Fashioned after a grand Castilian opera house, there's no place like the Ventura Theater for an intimate, unforgettable show. Musicians, and surf legends, Donavon Frankenreiter and Tom Curren are sure to put one on.
211 East Santa Clara Street
(805) 643-3264
Doors open 8:00 pm
$20 entry (includes champagne toast)
It's Y2K 2.0 at the Tavern. Yep, you read that right. They reckon that 1999, despite the Y2K weirdness, was a great year. Rick DJ, Aycer Avila, and Casino Gold will spin the best 90's/2000's gems.
632 East Main Street
(805) 653-7446
New Year's Eve Bash with Blues Bullet
8:30 pm to 12:30 am
As their name implies Blues Bullet plays blues and rock. And Winchester's motto can't be beat. No cover. No attitude. Hats, hooters and a champagne toast with the ball drop.
Midtown
1067 East Thompson Boulevard
(805) 652-1810
Fixed price dinner. Seatings at 5:30 pm and 8:30 pm
$163 per couple
A cozy Ventura gem, Barrel 33 pours some of Ventura's finest wines (and craft beers) throughout the year. On New Year's Eve they're offering an exotic fixed menu that includes a bottle of Louis Perdrier Brut or a Bourgogne Rose.
1888 East Thompson Boulevard
(805) 856-2695
Celebrate NYE with Yachtley Crew
Doors open 8pm. Music starts 10 pm
$25 in advance, $45 day of show
It doesn't get any more fun than Yachtley Crew, and they're the ones playing; 70's and 80s soft rock that's impossible to not dance to — plus balloon drops and champagne toasts and all the other fun NYE nonsense.
Hill Road Library
1070 South Hill Road
Noon Year's Eve for Little 'Uns!
11:30am-12:00pm
Why can't the small people have fun? Celebrate "Noon Year's Eve" with crafts, stories, and countdown fun! Then it's off to bed! Maybe for the parents too. Ages eight and under.
2055 East Harbor Boulevard
(800) 228-9290
New Year's Eve Gatsby Gala
3:30 pm – 2 am
Full event $149. Countdown Party (beginning at 9:30 pm) $69
Jay Gatsby knew how to go big and his Gala will do the same. Beginning with a free dance lesson at 3:30 (not everyone knows how to swing, and it's okay), then a bit of down time to outfit yourself in Roaring 20s garb, things get serious in the most flippant of ways; cocktails, dinner buffet, dancing, a dinner show, more dancing, and, after midnight, a DJ party jam.
Ventura Harbor
1559 Spinnaker Drive, Suite 205A
(805) 644-1500
East Coast New Year's Eve with Pete George and Ron Morey
Doors open 5:15 pm
Buffet dinner and show $65. Show only $35.
Two of the funniest men in the comedy business (and George is an accomplished musician too — which he puts to great comedic use) will leave you bent double. And, like all the best comedy clubs, the Ventura Harbor Comedy Club is intimate.
1575 Spinnaker Drive
(805) 642-9463
New Year's Eve party with the Brandon Ragan Project
8 pm – 1 am
Five-course dinner, champagne toast and show $75. Show only $30
The Brandon Ragan Project are the masters of danceable funk; hits from the 80s, 90s and right up to today. If you opt for the $30 show only option, there will still be a limited menu available. Owner Andres Fernandez knows how to whip up delicious Cuban fun — and fare.
1583 Spinnaker Drive, Suite 101
(805) 650-5350
New Year's Eve Party Experience an evening fit for the Gods and Goddesses of Mt. Olympus
5 pm – 2 am
NYE Celebration and multi-course gourmet meal $99
The Greek is offering several options. They will serve their regular menu (with a Belly Dance) until 7:30 pm. At 8, the NYE celebration begins, including a five course meal, dancing to a live band ("Crosscut"), more Greek dance shows, and, post-midnight, to keep your energy up, midnight pasta and dessert bars.
1510 Anchors Way
(805) 642-1200
New Year's Eve Party
Four-course menu, live music $99
Seatings at 5 pm and 7 pm, offering the regular dinner menu with specials. Starting at 9 pm, they'll serve up a four-course menu, live music, raffles, and a midnight champagne toast — with a lovely view of lights across Ventura Harbor's waters.
1591 Spinnaker Drive Suite 117C
(805) 256-6600
Solve puzzles to escape from incredibly clever rooms. Or have your friends solve them. Inside tip — they're offering a New Year's special. If you book on New Year's Eve or New Year's day (for any day of the year), they'll reward you with the rock bottom price of $20 per person, per game. Use the code HappyNewYear2020.
And on New Year's Day…
In all the excitement — and, possibly, haze — New Year's Day is often overlooked. We'll let you enjoy the first day of 2020 in whatever manner you choose. But we will tell you that the Ventura Botanical Gardens are free (9 am – 5 pm) on New Year's Day.
Breathtaking, high-in-the-hills views, our special town spread, toy-like, before the glittering Pacific.
No finer place to ruminate on the inevitable passing of time — and our luck.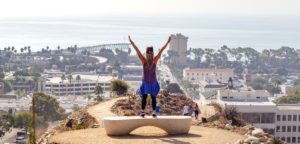 For more great stories, request our FREE inspiration guide right to your door!
Check out upcoming events!