Posted: Friday, Dec 20th, 2019
Ventura Restaurants Open for Christmas (and/or Eve)
by Visit Ventura
Christmas is a special time of year, and also a time to do special things for others. Why not give a chef who is dear to you Christmas Eve or Christmas Day off? Plenty of Ventura restaurants will be open Christmas Eve and Christmas Day, and some are offering special menus. With all due respect, even the chef dear to you might not be capable of cooking up Panko Crusted Shrimp Cakes, Roasted Butternut Squash Lasagna and Roasted Braeburn Apple.
You don't need to thank us for dropping a great last-minute gift idea in your lap…
Downtown Ventura
Open Christmas Eve until 8 pm. Regular menu.
Closed Christmas Day.
On the Beach Promenade 364 South California Street (805) 652-1799
Open Christmas Eve 10am until 4pm. Regular menu.
Closed Christmas Day.
On the Ventura Pier
668 East Harbor Boulevard (805) 643-4783
Christmas Eve 4 pm to midnight Special Menu. $39-$49
Christmas Day 2 pm to midnight Special Menu. $39-$49
391 East Main Street (805) 340-1118
Open Christmas Eve until 8 pm. Regular menu.
Closed Christmas Day.
66 South California Street (805) 653-1266
Open Christmas Eve until 10 pm.
Closed Christmas Day.
593 East Main Street (805) 648-3001
Open Christmas Eve.
Christmas Day until 8 pm. Special menu $18.99 children, $34 adults, $29.99 seniors.
Crowne Plaza Ventura Beach Hotel
450 East Harbor Boulevard (805) 652-5151
Open Christmas Eve 11 am to 5 pm. Regular menu.
Closed Christmas Day.
598 East Main St (805) 628-3868
Open Christmas Eve until 8 pm.
Closed Christmas Day.
(inside tip — try their new Seasonal Organic Pumpkin Cheesecake)
60 South California Street (805) 567-4400
Open Christmas Eve 11 am to 3 pm (the market is open until 4 pm).
Closed Christmas Day.
222 East Main Street (805) 641-9440
At Ventura Harbor
Christmas Eve open until 4 pm.
Closed Christmas Day.
1449 Spinnaker Drive (805) 654-8228
Christmas Eve 11 am to 3 pm.
Closed Christmas day.
1559 Spinnaker Drive (805) 639-0865
Christmas Eve open until 8 pm (regular menus with belly dance show at 6:30 pm).
Christmas Day open Noon until 5 pm. Dinner menu only.
1583 Spinnaker Drive #101 (805) 650-5350
Midtown Ventura
Open Christmas Eve until 10 pm. Regular menu.
Christmas Day Champagne Brunch 10 am to 4 pm ($55 adults, $25 children 5-12).
550 Sanjon Road (805) 947-4757
Open Christmas Eve 11:30 am to 4:30 pm. Regular menu.
Closed Christmas Day.
4435 McGrath Street, Suite 301 (805) 642-9449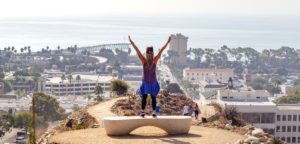 And finally (it pays to read to the end), a gift for you from the Ventura Botanical Gardens
The Holidays are certainly not just about eating. But sometimes they come close. So walk off a bit of that fortunate largesse at Ventura's lovely Botanical Gardens. Breathtaking, high-in-the-hills views, our special town spread, toy-like, before the glittering Pacific… Christmas Day (9 am to 5 pm), there's no entry fee. And dogs are welcome!
For more great stories, request our FREE inspiration guide right to your door!
Check out upcoming events!